Why You Should Join Relay for Life!
Relay for Life, a community-based fundraising event that raises money for cancer research and to support those battling cancer, will be held at Baptist Hospital (East Kendall) on March 14, 2020. The local chapter of this organization is part of a nation-wide effort to generate money for research on the disease.  Relay for life is accepting volunteers up until the day of the event.
Every year, the Relay for Life committee decides on a theme for the upcoming relay, which is Disney for this year's relay. After deciding the theme, it is crunch time for team members, committee members and all those involved.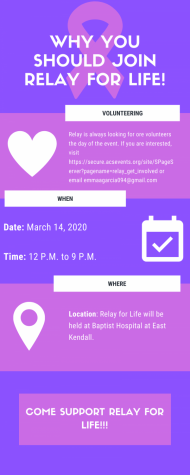 Team members must decide on what to do at their tent and how to fit the theme. For example, a tent can sell food and drinks as part of raising money. They can also sell jewelry or clothing.
They can also have different activities for the guests and their children, like face painting, bean bag tosses, etc. All tents even have posters with facts about certain types of cancer and what it can do to someone, which helps bring awareness to the issue.
Committee members have a lot to do as well. The committees are divided into sections, such as entertainment, volunteers, social media, silent auction and the survivor tent. There is also a designated entertainment committee that is in charge of finding singers and other forms of artists to perform on stage.
One of the most significant elements of the event is the survivors' tent, an area where cancer survivors can gather to enjoy good food, collect their medals for the survivor walk, and share their experiences.
"I feel that having a survivor tent is a good idea to honor those that beat cancer and to spread awareness that there are people there for them," senior Denise Cuevas said.
There are many ways to donate to Relay for Life. One way is to purchase the items at the silent auction tent and to purchase the items being sold at the tents. All the proceeds go to funding cancer research and helping people affected by the disease.
Another way to donate is to buy a luminaria. A luminaria is a white paper bag filled with sand with a lit candle inside. Each bag costs $5 or $10, depending on whether one buys it online or in person. The luminarias are displayed all around the lake and each bag either says "In Honor of…" or "In Memory of…" and the name of someone who won against cancer, is battling cancer or has died from it.
"Relay for Life is a wonderful organization working towards a cause that desperately needs as much attention as possible. As someone with a relative who has overcome cancer, I find the actions of this foundation to be admirable, for it instills hope to those affected by cancer and provides opportunities for the general public to show their support in the community," senior Sophia Campos said.
Cancer does not stop for anyone, and neither do those participating in this event.
About the Contributor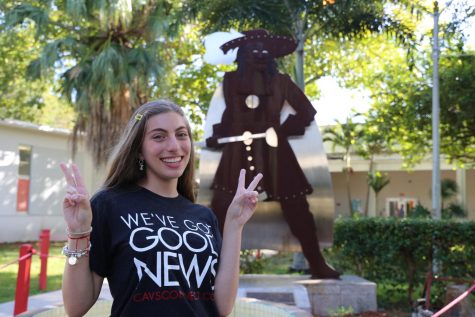 Emma Garcia, Staff Writer
Emma Garcia is a senior in the International Baccalaureate (IB) program at Coral Gables Senior High. As a staff writer, she hopes to write meaningful articles...