The English Honor Society Attends the 2019 Miami Book Fair
On Nov. 23, students from the National English Honor Society, including some members of the Cavconnect staff,  along with the club sponsor, Ms. Delgado, and the Cavsconnect advisor, Ms. Passwaters, attended the Miami Book Fair on a school field trip.
While on the trip, the students attended a session in which they met Angie Thomas, a world-renowned author best known for her best-seller book "The Hate U Give."
During the event, those attending were allowed to ask her questions.  Later on, they were given the chance to get their book signed and meet the author. Angie Thomas encouraged everyone to follow their dream even if sometimes it might seem unattainable and told them "do whatever you think you shouldn't do. Do it because that's what you should do."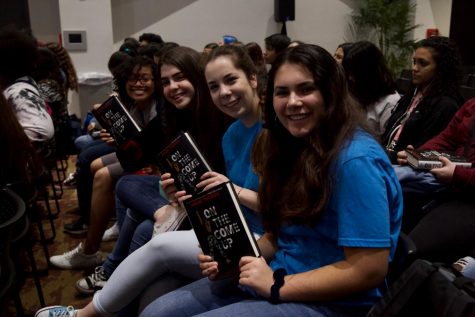 "I'm thrilled that so many of our participants enjoyed the trip and hope that more students be allowed to indulge in the vibrant culture embodied by the Miami Book Fair," Daniela Berropsi said.
After the session was over, the students were able to walk around the different booths and setups that they had in the fair as well as get a bite to eat from the many food trucks and stands nearby.
"The field trip was a great opportunity to discover literature we're not normally exposed to at school and hear other people's voices and opinions," junior Devon Rall said.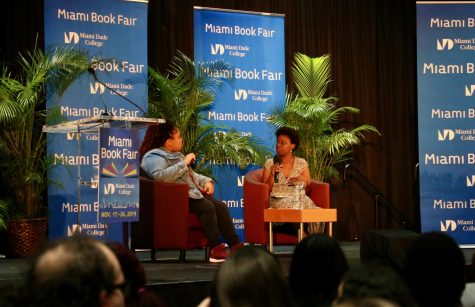 Angie Thomas new book, "On The Come Up," which was given to the attending students, tells the story of a sixteen-year-old girl named Bri who wants to be the greatest rapper of all time and win a rap battle. Her personal struggles allow her to write her first song that goes viral for the wrong reasons, and she is soon mixed up in a huge controversy.
As Thomas was interviewed by students in the audience, she spoke about being a lot like Bri, since they both want to inspire young girls to follow their dreams, especially in challenging times. When asked about the journey of writing her novel, she mentioned how she never imagined receiving the amount of popularity after publicizing her story. 
Even after certain areas banned her book, she still wanted to convey that if in "thirty years from now my book 'The Hate U Give' is still relevant, then the message that I was trying to send didn't get across."
The 2019 book fair was a great way to pick out new books with friends from the many stands containing classics, new books, and novels from various genres. Even if reading is not your strong suit, like it wasn't for Angie Thomas as a teenager, the Miami Book Fair offers an opportunity to enhance reading and writing skills by finding a book that speaks to your personal interests.
About the Contributors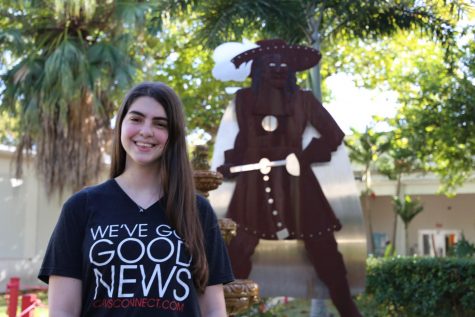 Melanie Estrada, Managing Editor
Melanie Estrada is an International Baccalaureate (IB) sophomore at Coral Gables Senior High who really loves to be a part of CavsConnect as the site's...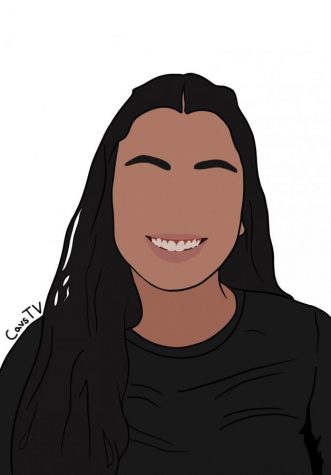 Melanie Ozuna, CavsTV Co-Editor-in-Chief
Melanie Ozuna is a rising senior currently enrolled in the International Baccalaureate (IB) program here at Coral Gables Senior High. Melanie first discovered...