Cavaliers NAF Students Head To FIU For NFTE Event
A handful of National Academy of Finance (NAF) students from Coral Gables Senior High were given the opportunity to go to Florida International University (FIU) to participate in an annual National Foundation for Teaching Entrepreneurship (NFTE) competition on Nov.12. This event also included other local schools such as Christopher Columbus High, John A Ferguson High, Gulliver Prep and Riviera Prep.
The students from all schools participated in numerous challenges to help them get into the entrepreneur's mindset, which ranged from finding solutions to young adults who graduate without the vocational training they need to get jobs to breaking down gender barriers in the workplace.
At the end of the day, the groups had to pitch their ideas to the judges for a chance to win an Amazon gift card ranging from $25 to $100.
The event began at 9.30 a.m. with NFTE associates greeting all the students and briefing them of all the challenges and events they would be participating in.
First up was guest speaker Greg Diamond who began talking about his early life on his journey of becoming an entrepreneur. His first breakthrough idea came in the form of a "candy cart" but instead of selling candy, he sold sheets and blankets which he received from his friend's company and drove an hour to Washington to find the best spot to set up shop and ended up making a business out of it. He emphasized to the students that no matter where they stand, there are multiple roads to success. As long as they're willing to work for what they want, they will make it.
"The NAF event was extremely beneficial to my knowledge on how to formulate a business plan on important matters," sophomore Pablo Velasquez said.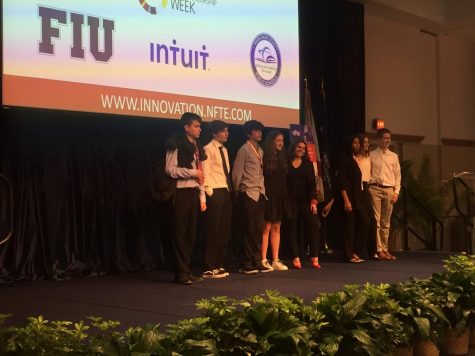 Once Diamond wrapped up his speech, the staff began telling the students that they will have an hour to create a product or service that promotes quality vocational education and lifelong learning opportunities to all in groups of three. At the end of the one-hour mark, all the teams would pitch their ideas to multiple judges for a chance to move on to the next round. 
Once the time period had concluded, all teams were assigned two judges who would listen to their pitches that they have prepared. In total, ten teams would move on to the final round and would have to go on stage to restate their idea and pitch to a new set of judges for a chance to win a 25, 50 or 100 dollar Amazon gift card.
One of the ideas that moved on to the next level of competition was an economics class, mandatory for high school graduation, that is designed to educate students on how to be financially informed and how to make wise economic decisions. 
"
I'm grateful we were given this opportunity to help find solutions to serious problems in the world today
— sophomore Andre Oliver
Other popular ideas included a special vocational school for low-functioning autistic kids that would help them find jobs after graduation, an app that lists people's qualifications and interests in an effort to find them a suitable job and many more.
All the students were eager to find out who won the third, second and first place awards. As the winners in both the Middle and High school categories were announced, the students cheered for their classmates and celebrated their victories.
To wrap up the event, all teams were called up to the stage to take a celebratory picture to congratulate the efforts of everyone who participated in the challenge.
All students from all of the schools left FIU feeling a bit more in the entrepreneurial mindset, as these challenged forced them to think critically and outside the box to come up with the best possible solution to some of the most pressing real-life problems.