Cavalier Publications Represent Gables at FIU's Annual Journalism Day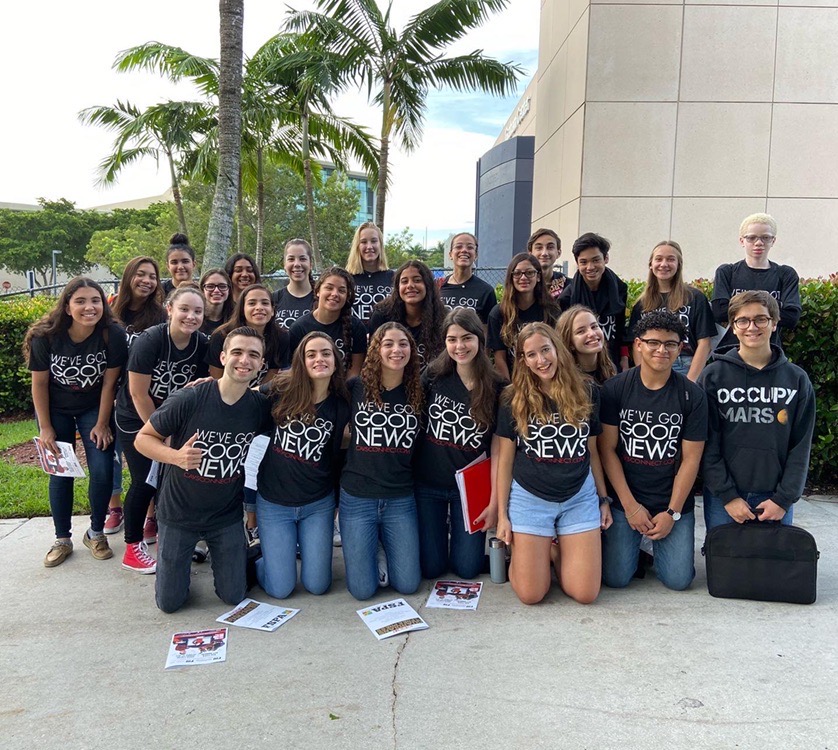 The 2019 edition of Florida International University's (FIU) annual Journalism Day, held on Saturday,Oct. 26,  drew students from throughout the Miami-Dade and Broward counties, including our very own Communications, Arts, Film, and Digital Media (CAF&DM) students, to the FIU campus for a day of instruction and competition in multi-media journalistic arts.
The students took part in workshops taught by communications professors and other professionals, participated in hands-on writing competitions, and attended an awards ceremony in which the winners of the Fall Digital Contest, including several Coral Gables Senior High students, were revealed.
The convention commenced at 8:00 A.M. with an opening ceremony where, after a brief word from the FIU Dean of the Department of Arts and Communication, Channel 7 anchor Alex de Armas took the stage to share her journey with the eager students.
A Miami native, de Armas began her journey in communication at the broadcast program, Our Lady of Lourdes Academy, later graduating to writing articles at the student newspaper of Miami-Dade College and editing broadcasts at the University of Florida.
Starting off in the world of journalism, de Armas initially faced troubles learning to meet the differing criteria of print and broadcast publications, as well as blunt criticism of the "Miami accent" that pervaded her on-camera speech.
However, with practice and connections forged by years of networking in the business, de Armas improved. Students watched as two of her broadcast packages were projected onto the walls of the spacious ballroom: one from 2011, which covered a Miami music group, and a recently filmed segment featuring two Miami girls who became friends while recovering from the same rare form of cancer. Along with better camera work and editing, de Armas' voice in the recent clip was far more even and the audio more smooth, showing the payoff of years of hard work.
Following a brief word about the importance of ethics in journalism, de Armas closed off her opening speech, and students were released to their first sessions. The "J-Day" booklet distributed at the beginning of the convention listed sessions that students could attend, varying from "Data-Driven Journalism" to "Video Storytelling," with plenty of options in between for students to attend based on their interests.
"
My favorite part of J-Day was the last session about designing spreads because the instructor from Walsworth Yearbooks showed us how to make amazing and detailed spreads with limited space"
— junior Sophia Weigel
Participants spent 50 minutes in their first session, listening to presentations and asking questions about the reality of a career in journalism. Immediately after, they moved into session two: one of eight available seminars relevant to Yearbook, Literary Magazine, Broadcast, Newspaper, or News Magazine students.
After a short break for lunch, students selected a third seminar to attend for their last informational session of the day.
"I learned a lot at J-Day about design and Associated Press (AP) style, which are both essential to creating an awesome yearbook," junior Sophia Weigel said.
Despite the excitement that filled the instructional sessions, the most anticipated event of the convention did not take place until 2:20, when the winners of the On-the-Spot, 24-hour Challenge and District Online awards were announced.
The room buzzed with excitement as winners and recipients of Honorable Mention, both middle and high school students, were called to the stage to pick up their certificates.
"I was really excited to see that we won because Nina [Cavaleon's Sports Editor] worked really hard on the design, and, even though I was not very informed on the subject, I researched it and made sure I had good interviews," sophomore Rachel Dopico said.
All four publications at Coral Gables High School received at least one award from the South Florida Digital contest This year's cavalier winners were:
Chloe Grant and Miguel Hernandez: All-Florida, Catharsis, Deadline Poetry
Devon Rall: Excellent, Catharsis, Deadline Poetry
Thomas Morcillo: Honorable Mention, Catharsis, Literary Magazine Spread
Isabella Rodriguez: Honorable Mention, Catharsis, Literary Magazine Spread
Oliver Ramirez: Honorable Mention, Catharsis, Literary Magazine Spread
Nina Montero, Sophia Weigel, Rachel Dopico: All-Florida, Cavaleon, Sports Feature Print
Isabella Morales: All-Florida, Highlights, Sports Reaction Photo
Ketty Dones: Honorable Mention, CavsConnect, Academic Photo
Melanie Ozuna: Honorable Mention, CavsConnect, Themed Photography
Kluivert Suquino and Allegra Sharp: Honorable Mention, CavsConnect, Sports Feature Print
Armed with their award certificates and notes on the three seminars, the Cavalier students left the 47th annual Journalism Day Convention a little more prepared than they entered to create original, creative content and pursue their passions for journalism upon their return to campus the following week.
About the Contributor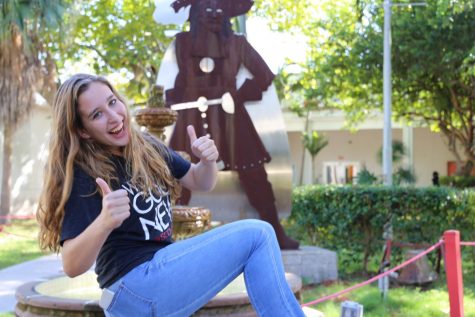 Chase Bagnall-Koger, Co-Editor-In-Chief
Chase Bagnall-Koger is a Senior in the International Baccalaureate (IB) program who is excited to be returning to CavsConnect for her fourth year with...