Updates on Ukraine: Two Arrested on Suspicion of Campaign Finance Violations
Hang on for a minute...we're trying to find some more stories you might like.
Two businessmen were arrested and charged for violating campaign finance laws on Oct. 9 while attempting to fly to Vienna from a Virginia airport. They were associated to President Donald Trump through his lawyer Rudy Giuliani. This is all amidst the impeachment inquiry, adding to the evidence that Congress is using to attempt to take Trump out of office.
The two businessmen arrested, Lev Parnas and Igor Fruman, were arrested at Dulles International Airport. They appeared in court Oct. 10 and were officially charged with circumventing US campaign finance laws.
They allegedly laundered money to donate more than $400,000 to Republican campaigns, as well as $325,000 to a Republican political action committee. A political action committee is an organization that raises and distributes funds to campaigns. The money was allegedly laundered, which is a felony that usually leads to more than a year in prison. The money was put through an energy company in Florida that they created to hide the source of the donated money.
Parnas and Fruman can be linked to the sitting president, Donald Trump, through his lawyer Rudy Giuliani, with whom they have a picture with. They were business associates with Giuliani but their connections other than that are unknown. On top of that, they were brought to the White House and Trump's resort in Mar-a-Lago. Investigators are still determining Giuliani's involvement with both Parnas and Fruman. Giuliani has refused to reveal documents that were subpoenaed for regarding his involvements with Ukraine. If Giuliani does not abide by the subpoena, a punishment will occur.
"There is no way out if he does not [release the documents]," freshman Patrick Keough said.
Giuliani originally intended to have an attorney show up to court for him. This attorney, Jon Sale, would have been used to answer requests and represent Giuliani during the impeachment inquiry. However, Sale has recently been fired, for unknown reasons and Giuliani now plans to represent himself in court.
The Washington D.C. Circuit Court of Appeals ruled that Trump's accountants must reveal eight years of his financial records for the impeachment inquiry. Trump appealed the ruling, and until the higher court makes their decision, he does not need to release them. This means that, after the ruling is made, the financial records will either be revealed or will continue to be concealed from the public.
"The Democrats have been looking for these tax returns for years, all they needed to do was impeach him to get them," freshman Nathaniel Leiva said.
This situation adds a new layer to the ongoing congressional impeachment inquiries. After the courts have made a ruling, Trump may finally reveal his tax returns that the Democrats have wanted since he was elected.
[powr-twitter-feed id=14a1e4c2_1571594014255]
About the Contributors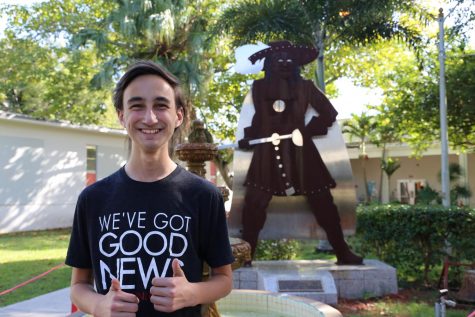 Alexander Tabares, Staff Writer
Alexander Tabares is an incoming freshman in the International Baccalaureate (IB) program at Coral Gables Senior High School. Once he begins high school,...