Friends' 25th Anniversary: Could We BE Any More Excited?
The hit 90s American sitcom "Friends" celebrates its 25th-anniversary near our local theaters, and fans are eager to relive the friendship between Rachel, Ross, Monica, Chandler, Phoebe and Joey on the big screen. Earlier this week, the show hosted a pop-up experience in New York City where fans were able to take pictures, see props and relish sitting in Central Perk. "Friends", as one of the most popular television series in history, has already led people to order screening tickets.

"Since 'Friends' consisted of such a huge part of my childhood and that of many others, it'll gladly be revamped into a more modern, high-quality definition where many people can enjoy at a time. Remarkably, this sitcom can still resonate with people while holding such a notable status after all these years," junior Aiyana Fonseca said.

The pop-up exhibit in New York was opened on Saturday, Sept. 7, and is set to run until Oct. 6. The studio's recreated sets and rearranged props are on display, including Chandler and Joey's reclining leather chairs, Phoebe's guitar, and Central Perk's famous orange sofa.

The exhibition has already received a large amount of popularity and has sold out in celebration of the anniversary. Its launch has also boosted people to purchase tickets of the "Friends" showing in cinemas. In honor of the celebration, theaters will display different fan-favorite episodes that were voted on earlier this year, and will be shown in over a thousand movie theaters nationwide. The episodes will begin Monday, Sept. 23, continue on Saturday, Sept. 28 and conclude on Wednesday, Oct. 2.

The three-night cinema event will show classic episodes plus exclusive content with never-before-seen interviews. Each night will screen a set of four episodes in 4k remastered quality. Fathom Events, who are sponsoring the showing, has promised a night full of fun and laughter.

"After 25 years,"Friends" remains to be one of the most talked-about shows and truly never gets old. The show is honestly a masterpiece. The characters are hilarious and are all lovable in their own unique ways. It's my go-to and comfort show, and whenever I watch it, it makes me feel so happy," sophomore Lauren Gregorio said.

For the event, people have purchased "Friends" merchandise in celebration of the anniversary. Clothing lines have taken the opportunity to release Friends-themed clothing, and companies, like Hot Topic, have launched a sale of official "Friends" gear such as tees, hoodies, jewelry, socks and so much more.

The show's never-ending popularity has touched millions of fans nationwide. The enduring support the show has received, as well as its availability on streaming destinations, have made it attainable for future generations to enjoy. Younger audiences can currently watch the show on Netflix, Youtube, iTunes, Amazon and Google Play. The "Friends" social media feed has recently become more active and has posted a lot more content to improve their reputation and status in accordance with the anniversary that is set to make your day, your month or even your year.

[powr-tumblr-feed id=f9f64aba_1568402546696]
About the Contributor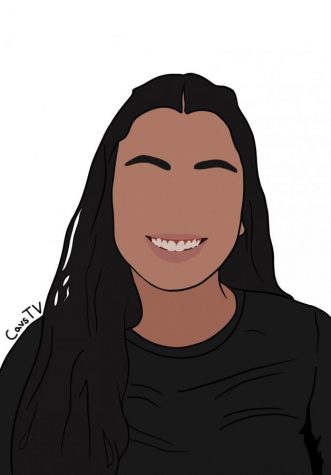 Melanie Ozuna, CavsTV Co-Editor-in-Chief
Melanie Ozuna is a rising senior currently enrolled in the International Baccalaureate (IB) program here at Coral Gables Senior High. Melanie first discovered...