Groundbreaking Ceremony with Superintendent Carvalho: The Revival of CGHS
In an effort to restore the structures of Coral Gables High School (CGHS) to their historic beauty, superintendent Alberto Carvahlo, along with the Miami Dade County Public School (MDCPS) board, have decided it is time that Gables received the renovations needed in order for the exterior to match the bright minds within the school. The renovations, which aim to improve  piping, electricity, security and the school's appearance, along with several other components, were made possible by a $11.2 million fund allocated to the school.
On Aug. 29, CGHS hosted a G.O.B groundbreaking ceremony in which both the school administration and the MDCPS board gathered to celebrate all the changes that are to come. The ceremony commenced in the media center where the Gablettes and the cheerleaders warmly greeted all attendees, allowing them to catch a glimpse of what the Cavalier spirit is all about.
Once guests settled down, student council members Alexander Sutton and Rodney Michel welcomed everyone to the event with speeches that were shortly followed by the Pledge of Allegiance. The CGHS choir, DIVISI, also made an appearance with a musical presentation of "Mr. Sandman."
Carvahlo then took the floor, where he elaborated on what this project means for the school and what is going to be done in each phase. The first stage, which is already in progress, involves plumbing renovations, exterior painting and interior enhancements in areas of high traffic.
Phase two will be the demolition of buildings six and seven to make space for a new two-story building which will have 13 classrooms, along with the construction of  laboratories, new buildings to house the chiller and mechanical equipment, new flooring, covered walkways and an indoor and outdoor recreational area for students to enjoy.
Carvahlo also took this moment to make it known that a phase three for this now nearly 27 million dollar project will be announced soon. Despite the generous amount of money donated to the school, some areas still need further refurbishment and Carvalho does not plan to leave those undone.  
"A brand new building, a new coat of paint and new technology is important, but it does not redefine the soul of Coral Gables, for that soul is built and enabled by the students, teachers, faculty, staff and the municipal partners that support this school," superintendent Alberto Carvalho said.
School board member, Mari Tere Rojas was next to speak. She opened up her speech by thanking the people who made this dream a reality. For Rojas, school safety and security is the ultimate priority. She made sure to elaborate on the new security features that will be added to campus, including brand new fencing, interior lining across the entire school and new security cameras in order to ensure that students feel safe in their learning environment. 
"We now have the opportunity to have a physical plant that is going to be second to none; it is going to be up to par to the caliber of excellence that is exhibited in this school academically," school board member Mari Tere Rojas said. 
Once the opening ceremony concluded, everyone made their way to the school's entrance where a long-awaited groundbreaking ceremony took place. With the shoveling of the soil that marked the beginning of construction, MDCPS board members along with CGHS administration allowed for an opening to new and improved possibilities.
This gathering marked the commencement of a new chapter for CGHS, the revival and rebirth of a new school environment. These changes will allow students to be proud and feel safe in the community which they will reside in for the next four years. 
Leave a Comment
Your donation will support the student journalists of Coral Gables Senior High School. Your contribution will help us cover our annual website hosting costs.
About the Contributor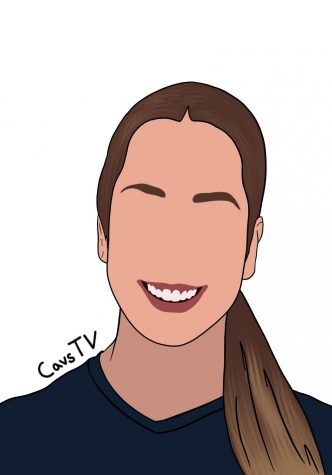 Natalie Abrahantes, CavsTV Co-Editor-in-Chief
Natalie Abrahantes is a senior in the International Baccalaureate (IB) program at Coral Gables Senior High. In her last year at Gables, she is extremely...