Cavaliers Win the Student Innovation Challenge
On May 20, Cavalier seniors Maria Estrada and Cristian Ochoa were announced the winners of this year's Superintendent's Student Innovation Challenge. The two students from our very own International Baccalaureate program teamed up to address the issues facing low-income students when applying to college. Their project allowed them to receive a $20,000 scholarship, with $10,000 going towards each of their college educations. Now that they won the challenge, they will meet with the Superintendent in order to implement this program in Miami-Dade County's school system as soon as possible.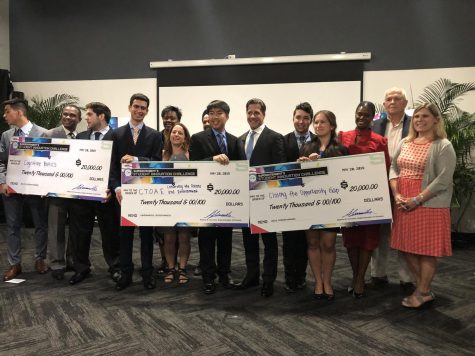 The two of them worked as a team in order to address an issue facing Miami-Dade County and its students. Three possible categories for entry were environmental issues, health issues and social issues. The duo from Gables addressed a social issue: college entry.
The team believes that rising seniors beginning the application process and their transition to college years need to have some form of preparation before diving in head first. Their proposal was to implement Gables' College Exposure Symposium (CES) all across Miami-Dade County. This program allows teachers and counselors to mentor the rising seniors in almost all aspects of the college application process, such as the common application or the essay portion of the application.
"I am so happy to say that Cristian Ochoa and I took home $20,000 home; our hearts were overwhelmed with joy that students in MDCPS will be exposed to college resources. The college process is arduous, long, but rewarding nonetheless. Cristian and I spontaneously proposed this idea and I am so grateful that hopefully more MDCPS students will be encouraged to apply to college. Education should be accessible to everyone, regardless of your socioeconomic status," senior Maria Estrada said.
The program, they explained in their proposal, would be extremely beneficial for all high school students as it allows for early preparation for success in a vital aspect of the transition to adulthood. Many students could potentially benefit because, regardless of income, students can get the help they need for the application process without paying any fees.
"The experience was really amazing though very stressful at the time. When Driver told us about the challenge, we had only one day to write the 20 page essay. It was stressful beyond belief, changing things super fast because the deadline was coming and trying to make the idea more marketable. When Carvahlo announced our names, we were ecstatic. Maria and I jumped up and screamed we hugged and Maria started crying. We couldn't believe it," senior Cristian Ochoa said.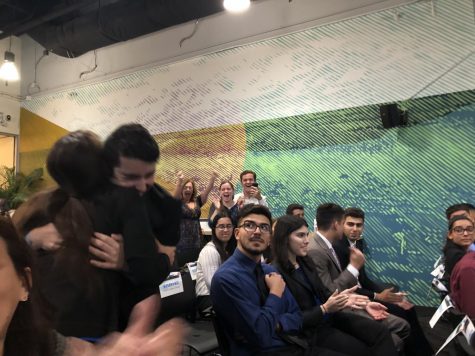 To be eligible for this award, Cristian and Maria had to submit a 15 to 20 page paper proposing their topic to the judges who would potentially implement the plans. The four essays that were selected from each category moved on to round two, where the contestants had to describe a problem and pitch the solution they came up with in three minutes.
In preparation for this pitch, the program hosted a half-day workshop to prepare and create a professional speech. Once this was finished, the judges had to deliberate and decide which would be the winners for each category, with Maria and Cristian winning for the social issues category. The dynamic duo worked hard for this award and did not crack under the immense pressure of the competition. Instead, their abilities flourished and they represented Coral Gables High well with their sophisticated approach to social issues within the county.
Leave a Comment
About the Contributors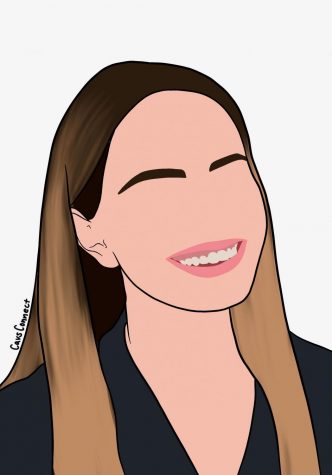 Maia Berthier, Co-Editor-In-Chief
Maïa Berthier is a senior in the International Baccalaureate program at Coral Gables Senior High. This is her fourth year in CavsConnect and second year...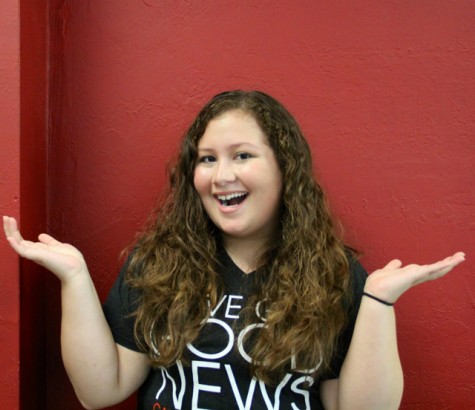 Maria Estrada, Spanish Editor
Maria Estrada is a diligent senior in the International Baccalaureate Academy at Coral Gables Senior High School.  As an exuberant and vivacious spirit,...