Notre Dame goes up in Flames
Hang on for a minute...we're trying to find some more stories you might like.
April 15 marked a dark day for the history of France- the Notre Dame Cathedral, located in the center of Paris, was engulfed by flames. At 6 p.m. Parisian time, an alarm notified visitors and workers that a fire had begun. The unfortunate disaster cost the church its spire and large chunks of its historic Gothic infrastructure.
"When I first learned that the cathedral was burning down, my heart sunk. Growing up, I spent most of my summers in France with my family, and I distinctly remember being impressed by the sheer size and cultural value of the cathedral. I feel heartbroken, and while the cultural value cannot be replaced, I hope that the reparations go by swiftly," senior Chantal Busteed said.
The cause of the fire remains unclear, but many believe that the cathedral's wooden infrastructure was the catalyst for the spreading of the flames. Investigators have no substantial lead on the cause but they are still looking for clues amongst the ashes. The French Fire Brigade was unable to rescue the cathedral's more modern spire, which was the most damaged part of the structure, but they were able t0 prevent the fire from spreading elsewhere.
In response to this national tragedy, French President Emmanuel Macron pledged to reconstruct the destroyed Cathedral within the next five years, assuring the nation that the country would pull together to repair the symbol of French longevity. Many wealthy and prominent figures have already allocated around $1 billion USD for the restoration of the cathedral, and reconstruction efforts are expected to commence soon.
"Seeing this longstanding national treasure be destroyed made a nation mourn, but I am glad to see how people are able to come together in a time of such tragedy. I am planning on visiting France this summer, and while I am sad I will no longer be able to visit this monument, I am hopeful that the reconstruction efforts will reinforce not only the cathedral, but French morale," freshman Rebeca Morejon said.
While sections of the cathedral were destroyed beyond repair, priceless treasures located in relatively untouched areas of the cathedral remain intact. Located within Notre Dame is the Crown of Thorns, which is said to have been worn by Jesus Christ during his crucifixion.
Firefighters were able to storm into the burning location and retrieve many priceless artifacts, which would have been impossible to replace. Although the original church and the years of history it carried also cannot be replaced, many believe that this reconstruction represents much more than a simple damaged church being rebuilt.
[powr-twitter-feed id=6a5cc67b_1555954358929]

About the Contributors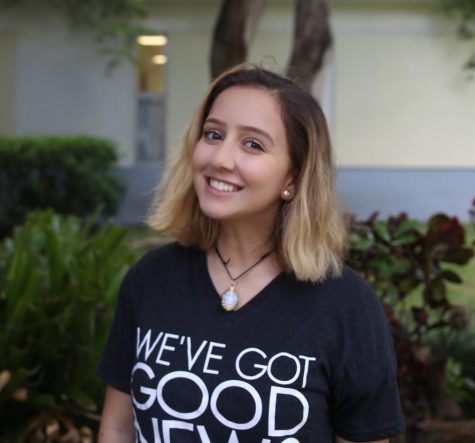 Daniela Parra Del Riego, Staff Writer
Daniela "Dani" Parra Del Riego is a half-Colombian, half-Peruvian sophomore in the International Baccalaureate (IB) Academy. This is her first year in...