Class of 2018 Comes Back With Insight
The notable class of 2018 alumni came back to campus to offer the current seniors advice on their ongoing college application process and provide them insight on how to survive college. The new college students along with current seniors gathered on Thursday, Dec. 20 at the auditorium in a panel to answer every question possible. Ms. Stack, who organized the forum,  led the panel, asking questions she prepared in order for each alumnus to offer a different perspective to the current seniors.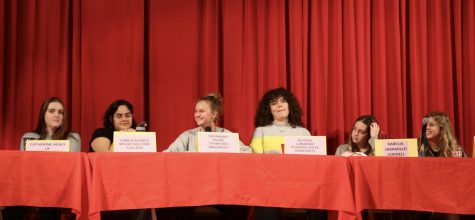 Florida State University (FSU) 
Two alumni from FSU, Alyssa Lamadriz and Ewan Hennessy, were present at the panel forum, at which they revealed that everyone truly loves being a student there. Lamadriz emphasized that it is very different from life in Miami but she easily adjusted. She touched upon the party reputation of the school and revealed that although there is always the opportunity to go out and participate, you can easily stay in if you choose to.
"FSU has always been my dream school but I always worried about the reputation it had and how it may affect me. Hearing Alyssa confirm that it is a choice and not forced upon you made me feel a lot better about it," senior Robert Kirk said.
Ewan, on the other hand, spoke about the numerous opportunities to get involved including the club "Outdoor Pursuits" which promotes enjoyable outdoor activities. He advised everyone to maintain good study habits and to ensure that they sit in the front row of all their classes.
 Parsons Art & Design School:
Alumna Melanie Wu revealed that art school can be strange because of its small class size and subjective grading system. With students wearing designer clothes like Balenciaga, the typical image of a college student sporting sweatpants and hoodie look is challenged. However, the New York setting offers the opportunity to enjoy beautiful sights as students walk to their classes at the Metropolitan Museum of Art.
The University of Virginia (UVA) 
Another alumnus who moved far from home, Amanda Pallas, said she is extremely happy because she always knew she wanted a new start with new surroundings. There is a strong sense of community at UVA as it is located in a small college town. She did note that it was extremely expensive to go to a public school out of state and that the distance from home was hard at first. Flights back home are expensive as well so it is not as easy to travel. Despite these detriments, the community at UVA is welcoming. There are many religious people, and while it was a big change, it was easy to adjust.
Boston College
Valeria Gutierrez offered insight from Boston College as she disclosed that being surrounded by people wealthier and different from her really made her feel like a minority.
"I had always thought about the fact that we live in a very diverse and welcoming bubble in Miami. As soon as you step out of Miami it is very obvious that you are different from everyone else and some people may not be as inclusive. This was something I have definitely given some thought to during my college process," senior Sofia Villarroel said.
Gutierrez's accent was also pointed out to her, which was surprising as she had never noticed it before. The transition into college was not an easy one, but she eventually got used to the new lifestyle. Her college process was extremely stressful because Boston College was barely a reality for her. Thankfully, they offered her a generous financial aid package and she was able to attend.
Cornell University 
Karelia Jaramillo, who is at Cornell, touched upon how Gables prepared her for the rigorous course load at a top university. She confirmed that there is a rigorous but manageable amount of work. the International Baccalaureate (IB) program did a great job to prepare her for it because she had experience in writing extensive research papers while all the other students did not. However, in Jaramillo's opinion, Cornell is not as competitive as other people believe it to be because everyone just wants to help you succeed. Her only frustration was that she had worked so hard for the IB diploma only to walk out with minimal credits accepted by the university while Advanced Placement students received many more credits.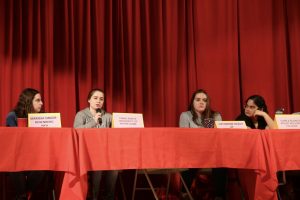 Notre Dame University 
Notable alumna Yanik Ariste offered more direct advice to the future college students who listened attentively. She advised everyone to take advantage of the resources on campus, especially when living in an extremely cold environment that you may not have been prepared for. Arsite also said to use the meal plan offered by the university and to budget the points wisely. Another tip was to look into health insurance as the one people currently have may not work outside of Florida.
Stanford University
Savannah Payne revealed that at Stanford, they now have a consent sign policy at parties and events. Every person is supposed to read a consent sign before entering the place in which the event is being held. Payen explained that her friends also share their location with each other to make sure they know where they are in case of an emergency. She reminded the forum attendees to be open-minded, inclusive, and sensitive once they are in college.
These are a few among many other alumni who spoke about their experiences as first-year college students. The class of '18 essentially exemplified Ms. Stack's famous motto: "you grow where you are planted."