A Celebration of Hispanic Culture!
Hang on for a minute...we're trying to find some more stories you might like.
The Hispanic Heritage Show is a traditional event that was first introduced to the student body to promote Hispanic culture. This event was held once a year for several years in the past but recently made a reappearance since the year 2014. This year, Madame Rouit, with the help of the Foreign Language Department, hosted and organized the event on Oct. 30 in the auditorium. The student body gathered at the start of their last block classes in the auditorium to partake in Gables' initiative to create a more culturally aware and diverse student body.
To commence the show the masters of ceremony, seniors Ana Wolfermann and Alejandra Orozco took the stage and introduced the first performance of the afternoon. The Gablettes added their own unique twist to "Buleria," a well-known song among the Hispanic community. The show in its entirety demonstrated different genres of music and visual art performances with the goal of accurately representing what it means to live in the Hispanic culture. After the first dance performance, sophomore Alanis Lago sang a rendition of "Corre" from Jesse y Joy, singer and songwriters of Hispanic descent, sending a sense of heart-warming nostalgia rippling throughout the audience.
"Well, as a performer, I personally felt honored being able to participate in the show because it was a chance to step out my comfort zone but also to share the Hispanic culture to others in our school. While performing, it made me feel proud of my background and coming from a Hispanic background in a way," junior Denise Cuevas said.
To bring laughter and a sense of comedy, Gables' Improv Troupe showcased a dramatized version of a "Quinceanera," which is a typical coming of age celebration in the Hispanic community for girls turning 15 years-old. To many, the performance demonstrated an accurate representation of what it means to live in a Hispanic household; it brought a sense of unity among the crowd as everyone came together and enjoyed the performance. Afterward, senior Kenrik Chirinos of Honduran heritage performed a self-choreographed solo to a well known Puerto-Rican song, "A puro dolo."
As the show continued, there was a series of more performances from the well-liked Improve troupe and both Cav Singers and Women's Assemble. Unexpectedly, Mr. Sanchez-Madrigal, one of Gables' very own Spanish teachers, took the stage with his guitar alongside a group of students, Combo 23, and sang "Guantanamera," taking the crowd by complete surprise. The students' cheers and applause continued on as the performance ensued.
"I was really honored to be apart of the Hispanic heritage show. It was a great representation of how important Hispanic culture is. I am so glad that I got to embrace my culture through my passion of dance," senior Kenrik Chirinos said.
Another wonderful performance from that afternoon was a reading of an original poem by junior Ariadne Herrera. Herrera is of Cuban descent and wrote this poem to remind herself how she is different because of her roots and that she should never feel ashamed. As she read her poem for the audience, spectators were left in awe as she succeeded in putting into words the feelings of many students who have at one time or another been judged or ridiculed for their different, non-American culture. The event also showcased seniors Isabella D'Ottone, Danayse Lopez and Sabrina Samon. As they took over the stage, they danced to several variations and combinations of typical Hispanic dances such as the Salsa, Bachata and Flamenco.
As the show came to a close, it became clear that Madame Rouit, the chair of the Foreign Language Department and event coordinator for this school year, surely did demonstrate how this initiative of further celebrating Hispanic culture throughout Gables brought students a sense of pride in their heritage. Throughout the show, the student performers, with the exception of teacher performer, Mr. Sanchez-Madrigal, all accurately showcased and represented how the Hispanic community has diversified Coral Gables Senior High by becoming a more welcoming, tolerant campus. Thanks to the hard work of several outstanding individuals, members of the student body were shown how truly talented some of our Hispanic students are, but most importantly, how one must never forget their cultural roots, no matter all the new place they may call home.

About the Writer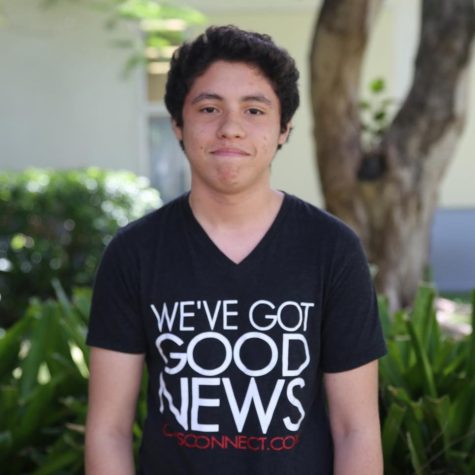 Miguel Lemus, Staff Writer
Miguel Lemus is a junior in the International Baccalaureate (IB) program at Coral Gables High School.  Lemus is excited to see what the school year will...