Bridge For Peace 2015
Albany Muria- Editor, Cameryn Padron & Logan Morris- Photographers
April 8, 2015
This year, the International Baccalaureate Honor Society (IBHS) hosted their annual fundraiser, Bridge 4 Peace: Belsonda Aashram, with a twist by hosting it as a dinner filled with cultural cuisines on April 7 from 6 p.m. – 9 p.m., at the Coral Gables Museum. For just $20, attendees had the opportunity to eat delicious food from all around the world and enjoy entertainment.
As guests arrived at approximately 6 p.m., entertainment like henna tattoos and a photo booth by Yearbook, weren't missed. The food from countries around the world gave everyone a little taste of everything.
"Bridge 4 Peace came out to be very successful! It was fun watching the models and performing, but the best part was definitely the food," junior Dayana Martinez said.
When the clock stuck 7:30, an international fashion show began. The extravagant costume wear included everything from countries' flags as accessories to a beautifully detailed headpiece from Brazil. Ending the night, Gables' own Bhangra dance team performed an exclusively choreographed dance.
"It was so much fun and I loved walking down the runway representing my dad's country. It was a great experience that I shared with students that share the same pride for their own countries," senior Claudia Villegas said.
All funds will go towards an all-girls orphanage in India. These girls' parents were killed by a group of terrorists, known as the Naxalites. The orphanage is the only way for these girls to have safe shelter and education. Even then, the girls live under extreme conditions. At times, up to 4 sleep in one room, which isn't very big itself. The girls are also forced to cross miles to obtain a source of water. For this reason, IBHS teamed up with junior Harleen Chawla and the Kasturba Ghandi Rashtriya Smarak Trust to make this fundraiser possible. The funds will go towards building a new well, in the hopes of establishing a safe water source available to the girls.
"Whether they felt pride representing their country in the fashion show or they loved the atmosphere of community present, many people have told us they truly enjoyed their night. It was a special evening full of food and laughs among friends, family, and especially teachers! It was a wonderful way to all join together to contribute to the efforts of improving the conditions of the Belsonda Aashram," IBHS President Marianna Babboni said.
With this year's success, Bridge 4 Peace is hoped to continue to have innovative fundraisers that will bring together friends, family and especially, the Cavalier family.
About the Contributor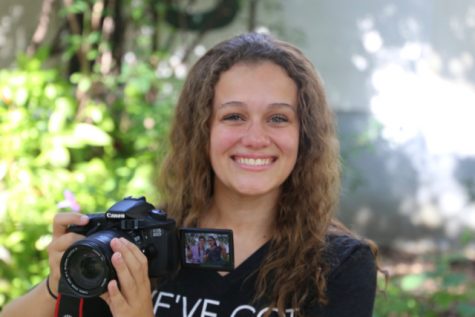 Cameryn Padron, Multimedia Editor
Cameryn Padron is a senior in the IB program. Cameryn is starting her fourth year working for Cavsconnect and her second year as the new Multimedia editor....