Barcelona Sues Neymar Over Transfer to PSG
After making history by transferring from F.C. Barcelona to Paris Saint-Germain in the most expensive soccer deal to date, world-famous soccer player Neymar was sued by his former team for an apparent violation of his contract.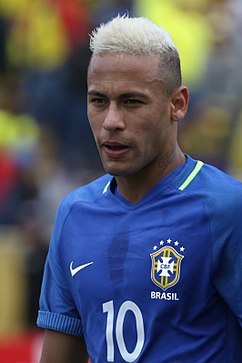 Hang on for a minute...we're trying to find some more stories you might like.
On Thursday, Aug. 3 Brazilian soccer player Neymar da Silva Santos Junior transferred from the Spanish team Football Club Barcelona, also known as Barça, to French team Paris Saint-Germain (PSG). The expert soccer player achieved fame at an early age, first recognized on the international stage when he was contacted by Spanish team Real Madrid at the age of 14. Now at 25, he has accumulated 18 individual awards of recognition from multiple magazines and international football confederations.
French president Emmanuel Macron congratulated the president of Paris Saint-Germain, Nasser al-Khaleifi, on the transfer.
"Congratulations, I understand there's been some good news," Macron said.
This deal breaks the previous record for most money paid during a player transfer. French player Paul Pogba held the previous record at €105 million ($116.4 million); Neymar doubles this deal with a transfer costing €222 million ($263 million) – and the price rises to over half a billion dollars when the additional $350 million in salary and bonuses is factored in. Neymar's five-year contract will make him the highest-paid player ever in a team sport.
"PSG's actually my favorite team, so I'm pretty happy that Neymar is going there from Barcelona. I actually don't really like Barcelona," sophomore and soccer fan Charlie Sommer said.
In response to Neymar's moving, FC Barcelona has issued a lawsuit against the world-famous player. On Aug. 22, Barça sued Neymar for a breach of his contract. PSG acquired Neymar by triggering the buyout clause in his contract with Barcelona. This is viewed as a fair move, and thus many doubt Barcelona's motives for suing. However, Barcelona has stated that their suit is over a $9.4 million dollar loyalty bonus on his recent contract with Barcelona – a bonus that Barcelona believes Neymar should not have gotten, since he has not stayed loyal to the team – therefore, the soccer team feels justified in taking legal action. The Barcelona contract was signed last year and set to last until 2021.
"The Club demands the player return the already paid sum for his contract renewal as he has not completed his contract; 8.5 million euros in damages; and an additional 10% because of delayed payment. The Club also requests Paris Saint-Germain take on responsibility for the payment of these fees if the player cannot do so himself," team Barcelona said in a statement it released on its website.