Catching a Cav with Character: Principled
Hang on for a minute...we're trying to find some more stories you might like.
These extraordinary Cavaliers below have been recognized for the month of November for their ability to differentiate right from wrong while still keeping true to themselves and others. They have not only demonstrated exemplary attitude in their classroom environment but have also embodied these exceptional attributes and in turn, have applied them to their everyday lives.
Grade 9: Melanie Estrada
No matter what Melanie Estrada does, she puts forth all her dedication and most notably, will try to exceed beyond anyone's expectation. She continuously demonstrates an exemplary attitude in the classroom environment and is never afraid of taking on a challenge. Estrada tries to make the best out of every situation in an effort to keep a healthy and positive mindset. Some may describe her as studious but she still demonstrates an outstanding sense of perseverance and dedication. She is always open to joining extracurriculars in order to broaden her horizon and knowledge to become more self-aware of what goes around her community and school. To so, Estrada tries to keep herself very organized and open-minded for what can arise from every opportunity.
Grade 10: Natalie Abrahantes
Abrahantes is always seeking new opportunities and experiences that will help grow as a student and most importantly as an individual. She has never been afraid of tackling obstacles that may stray her off from her goal. As a staff writer for Highlights and member of Student activities, she has grown an undevoted passion for Gables. It was not difficult for Gables' faculty to notice the growth Abrahantes had undergone as she moves forth with preparing for her future in high school and out. In an effort to initiate a summer internship alongside activities director, Ms. Suarez has come to notice the work ethic and unmeasurable amount of passion that Abrahantes demonstrates when she is trying to reach her goal.
Grade 11: Janelle Lora
Lora has always put in hard work and shown dedication to everything she undertakes, even in times of overwhelming pressure. Lora holds everything she participates in at the same level of importance. By doing so, she is able to equally accomplish any and all tasks with excellence. She does not let anyone take away from the goal that she is trying to achieve as she believes that one must hold true to themselves in order to succeed. She has grown to profoundly exhibit these qualities through her extracurricular as well. As member and officer of the Gablettes team, she seeks to always become a  better version of herself as there is always room to improve. As a dancer, the idea of dedication and willingness to never give up have automatically been cemented into her personality as an individual and student.
"I've noticed that I've always been most successful in times when I stand my ground and keep my mentality even if it isn't what others are doing, and I have never let that bother me or get in the way of my success," junior Janelle Lora said.
Grade 12: Evelyn Lago
Lago embodies the epitome of what a principled student is made up of. Since she was younger she has always been the type of person that is there for her peers or friends no matter the situation. Lago never thinks twice to help those in need; for it comes to her as an instinct instead of a burden. She continuously seeks to help those who are in need and is not afraid of what others may think of her or the thing she does. Lago believes that being yourself and acting upon good intentions is the best way to make about everyday situations. No matter if it is a teacher, loved one, or stranger Lago is always there in times of need.
"I know how to be myself and I'm confident in who I am. I feel like that combination of security in oneself and an inclination to serve others. I don't help to just get someone to like but its more because I feel a  sort of joy from simply helping someone or being there for them," senior Evelyn Lago said.
These students have demonstrated exemplary attributes that make up a model student and that have differentiated then from your typical student. They are seeking to become the best version of themselves in hopes of growing as an individual. These Cavaliers are never afraid to face an obstacle as they see it more as a stepping stone to a new learning opportunity rather than a fear they cannot face.

About the Writer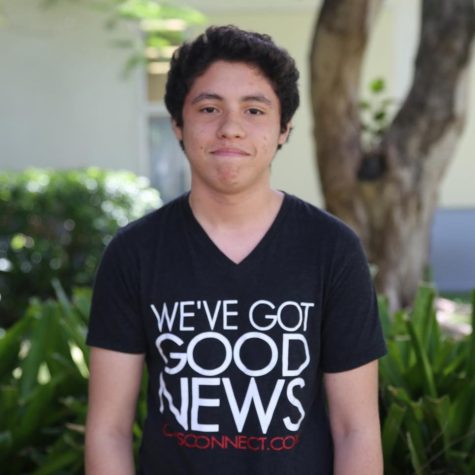 Miguel Lemus, Staff Writer
Miguel Lemus is a junior in the International Baccalaureate (IB) program at Coral Gables High School.  Lemus is excited to see what the school year will...