Anthony Russo: AOF Representative Continues on the Finance Path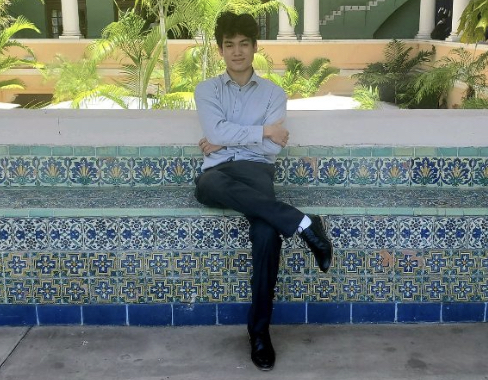 As the school year comes to an end, seniors are looking back at the memories and journeys they have made in Coral Gables Senior High. For senior Anthony Russo, four years at Gables helped him develop from a young and shy 14-year-old in a foreign environment to an accomplished senior ready to leave for college.
As an underclassman at Gables, Russo was not as outgoing and school-spirited as he is today. Coming from Mater Grove Academy, Russo was not familiar with many of his peers, so he generally kept to himself during his freshman year. However, this changed towards the second half of the school year as he began to meet new people and became more connected with Gables. He began to socialize more with his classmates and even joined Future Business Leaders of America, the Cavalier finance club.
After deciding that he wanted to be more involved in Gables, Russo joined CavsConnect, where he was able to write articles and learn about the school. This opened doors and allowed him to make connections with students and staff members alike. Additionally, Russo began participating in other extracurriculars like the Health Information Project, where upperclassmen teach the underclassmen about proper health care and provide resources for students.
"
Being a student here at Gables has given me experiences and relationships that I will forever appreciate. I've met so many different people in these past few years, and I'm glad to have been able to have so much fun and explore my hobbies like sports. Overall, I love Gables and I hope to live up to my expectations when I graduate from this school,
— senior Anthony Russo
"When I first came in [to Gables], I was nervous and unsure how my next few years would be. Thankfully, that changed after I started getting more involved through CavsConnect since I got to meet many new people and forge relationships with many that I still cherish today. CavsConnect, as well as my time in the Academy of Finance, opened so many doors and let me challenge myself at my own pace," senior Anthony Russo said.
On top of clubs and other activities, Russo plays a prominent role in the Academy of Finance magnet program as the secretary of the AOF board. In this position, he collaborates with other members of the board to plan meetings and activities for AOF. Additionally, he has become familiar with programs such as Excel and Quickbooks, which are frequently used to manage resources and events. The senior hopes that his experience on the board will help prepare him for future jobs in finance.
Although he participates in numerous extracurricular activities, Russo has also managed to balance his schoolwork and excel academically. As a student of Gables' AOF, Russo maintained high grades and achieved a 4.9 weighted grade point average throughout his time at Gables. He has also received a number of scholarships from universities that are hoping to recruit him, like the Spartan Scholarship from the University of Tampa, the Gold and Blue Merit Scholarship from Florida International University and the Vires Scholarship from Florida State University.
"I've known Anthony since like our freshman year. He's always been a funny and positive guy, and you can tell that he is dedicated to his success. I hope that he lives up to his potential and goes far in life," senior Danny Cen said.
As he weighs his options for future colleges, Russo has a number of potential schools that he can choose to attend. He has been accepted into several universities, including the University of Tampa, University of South Florida, University of Central Florida, FSU and FIU. Out of these options, Russo intends to attend FIU as he received a full-ride scholarship that would pay for his tuition and extra costs like housing.
Taking into account his experience and certifications in AOF, Russo plans to major in Finance and Statistics at FIU. He hopes to pace himself and figure out his career plan, as well as immerse himself in as many clubs and activities, so he can expand potential opportunities and form connections. Ultimately, he plans to transfer out of FIU in order to explore all of his opportunities before committing to a career.
As his time in high school comes to a close, Russo is excited and prepared to see what college life has in store for him. Though he will have to leave Gables soon, his accomplishments and presence at the school will be cherished and remembered as the definition of a true Cavalier.