Travesía hacia la victoria
La temporada de Cross Country en Coral Gables High School se ha presentado como una llena de desafíos y exigentes objetivos para los integrantes del equipo tanto JV (Junior varsity) como Varsity. El año pasado, el equipo de hombres fue por primera vez a los estatales y el equipo de mujeres logro obtener muy buenos puestos en los distritales y regionales. El equipo se ha trazado una meta alta y espera desarrollar un muy buen desempeño, volviendo a sobresalir en los campeonatos. Sin embargo, con la venida del huracán Irma muchas competencias se han postergado y cancelado lo que se significaría un mayor desafío para los integrantes de Cross Country. Motivo por el cual los integrantes no solo están entrenando después de clases, sino también fines de semana y feriados.
"
Esta temporada de Cross-country ha sido interesante. La competencia distrital esta cerca y como campeones del año pasado queremos defender nuestro titulo, pero tenemos que esforzarnos y darlo todo durante el entrenamiento y competencias."
— junior Sebastian Escobar
Pese a los obstáculos que se les ha presentado a los integrantes del equipo, ellos están dispuestos a dar su mejor esfuerzo para sobresalir. El anterior sábado, el equipo asistió a la competencia de Spanish River Invitational, el cuál fue el segundo campeonato de la temporada. Muchos de nuestros corredores tuvieron un excelente desempeño y algunos rompieron sus records personales. Nuestro destacado atleta, Cavan Wilson, rompió el record del colegio con un increíble tiempo de 15: 56:35. Lo que lo convierte en el mejor corredor de 5k en la historia de Coral Gables High School. El equipo de hombres quedo octavo en la competencia del pasado fin de semana. En cuanto a las chicas muchas de ellas bajaron sus marcas considerablemente. El entrenador Nelson y el entrenador Fotso, están haciendo un excepcional trabajo al dedicar su valioso tiempo a hacer del equipo inclusive más exitoso. Los fines de semana y feriados los deportistas de Gables se reúnen junto al entrenador Fotso a correr distancias largas. El entrenamiento de ambos entrenadores continúa dando sorprendentes resultados.
En tan solo dos competencias el equipo ha demostrado que está listo para destacar. Aunque se les haya presentado obstáculos, el equipo continúa superándolos juntos, sigue deslumbrando. Esta temporada de Cross-country promete ser igual de exitosa o mejor que la anterior.
"
Esta temporada mi lesión me ha afectado y siento que no estoy corriendo como lo esperado, pero sé que me recuperaré con motivación de que tenemos que ir a Estatales. Como equipo queremos sobresalir y la única manera de lograrlo es dando el 100% cada día en el entrenamiento. Yo sé que podemos y lo lograremos."
— senior Abigail Flores
About the Contributor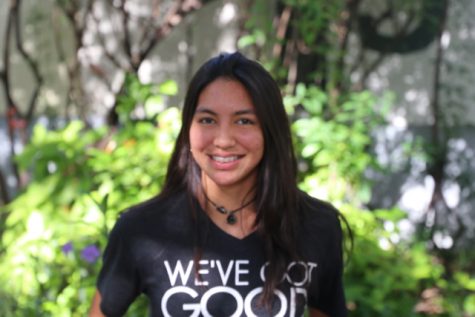 Paula Gonzalez, Staff Writer
Paula Gonzalez is a senior in the International Baccalaureate (IB) program at Coral Gables High School. Coming from Perú her sophomore year, she quickly...