Espiritu Navideño en Miami y Como Disfrutarlo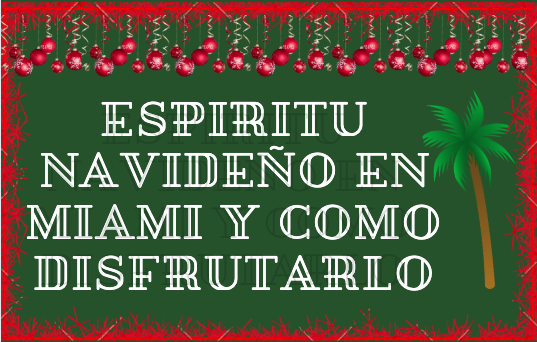 Ya ha llegado diciembre y comienza la temporada de vacaciones, los floridanos pueden tener obstàculos en lo cual causan dificultad para encontrar el espíritu navideño. Con días soleados y un clima que no pasa por debajo de los 50, es difícil sentir el espìritu Navideño. Aunque esto podría ser cierto, hay muchas actividades diferentes, ubicaciones y eventos que emitirán la experiencia perfecta para vivir una temporada llena de celebraciòn y espìritu navideño.
Santa's Enchanted Forest
Mas conocido como el lugar más mágico en Florida, Santas Enchanted Forest todos los años se reúne en Olympia Heights, justo al lado del Tropical Park, desde el 1 de noviembre al 6 de enero. El parque temático de vacaciones consiste con más de 100 atracciones, espectáculos y juegos. Con amigos y familiares, cualquiera puede disfrutar de una noche llena de diversión al ganar premios y comer la amplia variedad de opciones de comida que ofrece. La entrada del parque está rodeada por un túnel de luces rojas y verdes, en la cual da a los visitantes una larga noche de actividades. Con paseos tranquilos pero agradables como el merry-go-round y la Ferris wheel repleta de luces que le permite a los visitantes echar un vistazo a la ciudad espectacular de Miami. Si eso no es suficiente para la noche, los visitantes pueden enfrentar atracciones emocionantes como Mega Drop, para ayudar a dar la máxima descarga de adrenalina, o montañas rusas como Crazy Mouth o Windstorm. Chicharrones, un gran círculo de masa frita con canela, azúcar en polvo, chocolate y caramelo, son dos de los dulces más populares que se venden en el parque temático.
City of Miami Holiday Tree Lighting Ceremony
SI buscan un lugar más tranquilo, la ciudad de Miami celebra una ceremonia de iluminación de árboles anualmente. Durante el  6 de diciembre a las 5 P. M. hasta las 10 P. M., Puede unirse a la comunidad de Coral Gables para iluminar el árbol navideño. También puede disfrutar de otras actividades que incluso ofrecerá, como entretenimiento musical, oportunidades de capturar imagenes con Papá Noel, y acceso a pintura facial con manualidades.
Tchaikovsky's Nutcracker
Miami City Ballet organiza el ballet de ópera Cascanueces de Tchaikovsky en la cual esta repleta de encantadores juguetes de baile y escenas mágicas. Se lleva a cabo todos los días en el Centro Arsht durante el 19 al 24 de diciembre. Esta maravillosa tradición consiste de una noche llena de música orquestada y los afectos crearán el perfecto país de las maravillas del invierno. El ballet nos lleva a través de una historia visual de una niña llamada Marie y nos hace seguir al Cascanueces a una tierra mágica mientras nos encontramos con soldados de juguete y luchamos contra el Mal Rey Ratón.
"El baile fue muy bien practicado, especialmente las partes sincronizadas que estaban en su mayoría en el acto. 2. El escenario también era muy bonito y la orquesta hizo un trabajo fantástico tocando todo el tiempo y fue muy conmovedor. Los disfraces también fueron coloridos y diferentes para cada escena ", dijo sophomore Elizabeth O'Meara.
Zoo Lights at Zoo Miami
Hecho para los amantes del zoológico, Zoo Miami se adorna completamente con luces de Navidad Las gafas 3D se entregan a los visitantes para experimentar el efecto completo y se pueden organizar otras características especiales. El evento tendrá lugar el 22 de diciembre y será de 8:30 a 9:00 pm
Add Story ‹ CavsConnect — WordPress. Durante el tiempo que pases allí, podrás disfrutar de encuentros con animales, paseos en barco por el río Hombre Nieve, muestras de Panetone by Bauducco, chocolate caliente ,galletas y fotos con Santa. Además de las compras navideñas en la tienda de regalos del zoologic estas actividades ofrecerán una visión diferente de el espiritu navideño vacaciones, mientras disfrutan de ver y pasar tiempo con la naturaleza y los animales. Será muy necesaria una rutina diferente como esta, especialmente en una ciudad sin escalas como Miami.
Bayfront Holiday Village
Del 6 al 22 de diciembre, Bayfront Holiday Village transforma el Bayfront Park en un gran destino de entretenimiento durante la temporada navideña. Las tiendas en la área permitirán una cantidad de compras agradables, todo mientras alumbran el árbol de Navidad animado de 50 pies que se encuentra en el medio del parque. Bayfront Holiday Village también ofrece actividades para niños pequeños. Bay Skate permite que los niños se pongan patines y se deslicen alrededor del árbol de Navidad. La oficina de correos de North Pole Express permite a los niños sentarse y escribir sus cartas a Santa y enviárselas por correo, además de tomarse una foto con Santa. Otras actividades incluyen la Cacería de Gnomos Scanager y la noche de cine familiar todos los días.
About the Contributor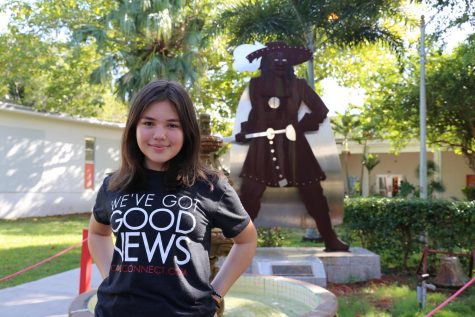 Maria Puyana, Staff Writer
Maria Puyana is an International Baccalaureate (IB) sophomore who is impassioned to begin her first year as a CavsConnect staff writer. Maria is a very...