The Cavaleon Yearbook: Volume 78
On May 17, the first set of  Cavaleon yearbooks were distributed to the senior class. As a Gables tradition, the graduating class is thrown a reveal party. The seniors gathered in the New Cafeteria and enjoyed an afternoon of perusing through the yearbook and passed around their signature sheets.
The 78th volume of the Cavaleon took months of careful planning and dedication from all members of the staff. The team leader was senior Brianna Curran who served as Editor-in-Chief (EIC). However, the team in its entirety worked collaboratively to edit hundreds of pictures and carefully place them all throughout the book. Next year's Editor-in-Chief, rising senior Chris Brazda, is set to lead the team through the 79th volume of the book. 
"I think the EIC of The Cavaleon is one of the most important leadership roles a student can take at Gables because I have been put in charge of encompassing the entirety of the 2019-2020 year in 360 pages. I am both excited and scared for what is to come, but I have surrounded myself with an incredible editorial board and staff for next year," junior Chris Brazda said.
After the seniors received their books, the rest of the student body was able to pick up their books starting May 20th. The yearbook room was filled with students rushing in and out throughout the day picking up their yearbook. Although many of the yearbooks were based on pre-orders, there are still a couple left for purchase. The current cost of the yearbook is $70 and can be purchased in room 9222.
"Yearbook distribution always makes me so excited. I like seeing the smiles on the students' faces when they find themselves in the yearbook; we try to make it as inclusive as possible," junior Melanie Giquel said.
Some students prefer to buy the yearbook their senior year of high school. Others enjoy having the collection of all four to remember each year of their high school experience individually. Nonetheless, each continuing year, the yearbook staff works adamantly and passionately to produce the best quality yearbook possible. Not only have their layouts and designs been praised at competitions, but their overall attitude to produce quality content for the student body is what makes having a yearbook a must.
About the Contributor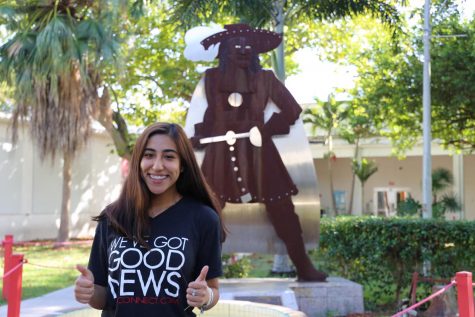 Jesse Zambrano, Spotlights Editor
Jesse Zambrano is a senior in the International Baccalaureate (IB) program. When she arrived to the US, it was clear to Zambrano how important it was to...