The CAF&DM Students Attend FSPA in Orlando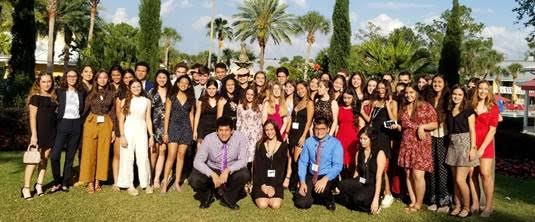 The Florida Scholastic Press Association (FSPA) is a non-profit organization whose members consist of more than 300 student publications, online media teams and broadcasting programs from around the state.  The students of  Communication Arts Film and Digital (CAF&DM) academy, which includes Cavsconnect, Cavaleon, Gables Live!, Highlights and Catharsis, attended a conference which took place from April 11-13  in Orlando, FL.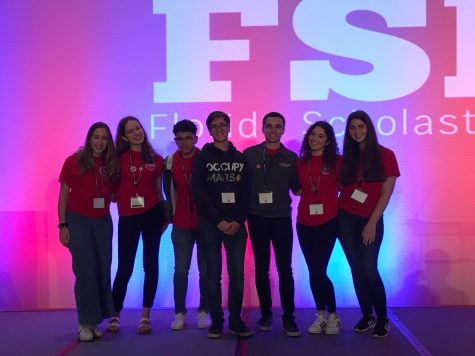 The students were able to choose the sessions that they wanted to attend to further improve their publication. In these sessions, CAF&DM students learned how to implement AP Style into their writing, as well as improve their leadership, interview and writing skills.
The convention offered different workshops to help accommodate the various media platforms that attended. The assembly was conducted by a specialist on the subject or a current Editor-in-Chief of a publication who shared their expertise on running a publication smoothly.  CAF&DM students took notes throughout each assembly to use this information to improve the quality of their own publication's content.
"Overall, I was very pleased with this year's FSPA field trip. It was an insightful experience allowing me to view journalism from all kinds of angles. Not only was I able to have tons of fun with my friends, but I was also able to learn new ideas from them that will hopefully play a role in boosting my journalism skills from here on out," junior Kluivert Suquino said.
Upon arrival, the students attended the opening ceremony that gave hope to young aspiring broadcasters. The keynote speaker, a Georgia State graduate, struggled to land a stable job after finishing his education. His big break came over twitter, when some of his broadcast videos were retweeted thousands of times, catching the attention of media companies who offered him positions in his dream field of sports broadcasting. In his speech, he explained the trials he had to overcome through this career and the tips he picked up on his way to professional success.
FSPA also allowed students to bond with their publications over the three-day long conference. Over the weekend, they spent most of their time together, from sessions to a FSPA award ceremony to nighttime ice cream trips.
On Friday, after a busy day filled with sessions, students attended a dance hosted by FSPA with music and a photo booth. The participants shared dances with their friends while listening to a music from a variety of genres.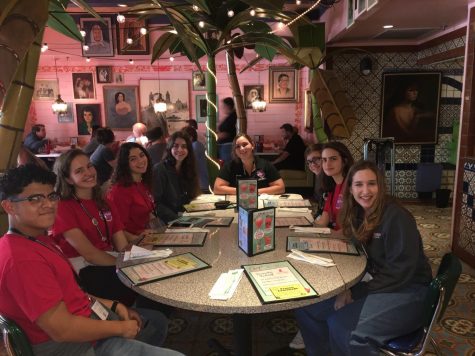 "At FSPA I grew closer to many people both inside and outside of my yearbook class and I also ended up learning a lot about journalism that I can apply to my spreads next year. I definitely want to go again next year because it was such a great experience," freshman Sabrina Bonavita said.
On the last day, the convention gave out multiple awards to the winners of the on-the-spot contests in categories ranging from short stories to reviews, captions,and more. Students from around the state, including some from our very own Coral Gables High School, were honored for their success under tight time constraints and with unpredictable prompts.
With a multitude of sessions to choose from, the CAF&DM students gained technical knowledge as well as insight into journalistic practices that will benefit their staffs in the years to come. All the CGHS participants had an unforgettable time, and they hope to bring back the lessons they learned their respective publications to make even further improvements.
The following Coral Gables Senior High students received awards:
CavsConnect – Gold (Adviser: Ana Suarez)
Adriana Castro – All-Florida – General Feature Story
Daniela Parra Del Riego – Excellent – Commentary: Off Campus
Andres Velasco – Honorable Mention – Spot News Photo
Trey Riera – Honorable Mention – Review
Natalia Rodriguez – Honorable Mention – Commentary: Off Campus
Alexander Yagoda – Honorable Mention – Review
Natalia Rodriguez – Honorable  Mention – Review
Highlights – All Florida (Adviser: Melissa Gonzalez)
Sunshine Standout Award for the 2018-2019 Magazine for the entire state of Florida! Out of all of the All-Florida publications, they chose highlights as the best news magazine!
Best of the Best: Dylan Carol – All-Florida – Profile Story
Best of the Best: Alexander Sutton – All-Florida – Commentary Off-campus
Best of the Best: Alejandra Orozco, Sutton Payne – All-Florida – Newsmagazine Front Page
Dylan Carol – All-Florida – Commentary Campus
Dilan Denham – All-Florida – Commentary Off-campus
Hanna Ebrahimi – All-Florida – Commentary Off-campus
Sara Ebrahimi – All-Florida – Profile Story
Audrey Weigel – All-Florida – Sports Profile
Alex Anton – Excellent – Profile Story
Hanna Ebrahimi – Excellent – Off-campus News Story
Ruben Escobar – Excellent – Sports Feature
Ruben Escobar, Thomas Morcillo – Excellent – Multimedia event coverage
Melanie Nunez – Excellent – Commentary Off-campus
Sutton Payne – Excellent – Newsmagazine multipage spread
Alejandra Orozco – Excellent – Newsmagazine Front Page
Alexander Sutton – Excellent – Off-Campus News Story
Alexandra Torres – Excellent – General Feature Story
Dilan Denham – Honorable Mention – Editorial
Thomas Morcillo – Honorable Mention – Sports Action Photography
Thomas Morcillo – Honorable Mention – Personality Portrait Photography
Thomas Morcillo – Honorable Mention – Feature Photography
Arianna Pena – Honorable Mention – Review
Grace Rodriguez – Honorable Mention – Spot News Photo
Oraida Rodriguez – Honorable Mention – ComputerDrawn Illustration
Cavaleon – All-Florida – 2018 yearbook evaluation (Adviser: Ana Zuniga)
Best of the Best: Eliza Beltran – All-Florida – Nature photo
Elliza Beltran – Excellent – Personality Portrait
Elliza Beltran – Honorable Mention – Sports Action Photography
Elliza Beltran – Honorable Mention – Personality Portrait
Elliza Beltran – Honorable Mention – Feature Photography
Elliza Beltran – Honorable Mention – Spot News Photo
Gabriela Jimenez – Honorable Mention – Sports Action Photography
Gabriela Jimenez – Honorable Mention – Feature Photography
Gabriela Jimenez – Honorable Mention – Sports Reaction Photo
Daniel Fernandez, Maria Abrahamyan, Maxwell Dickinson – Excellent – Yearbook Academics/Organizations Module
Daniel Fernandez, Maxwell Dickinson, Max Rego – Honorable Mention – Yearbook Academics/Organizations Module
Catharsis – All Florida – 2018 Literary magazine – Continuum (Adviser: Michelle Zaldivar)
On the Spot:
Malika Mckenney – First Place – Hand Drawn Illustration
Devon Rall – Honorable Mention – Poetry
Sabrina Bonavita – First Place – Copy and Caption Writing  
Rachel Dopico – Second place – Short Story
Jana Four – Honorable Mention – Review
Ana Capiro Steven J Thor Mixed Company – First Place