Superintendent Carvalho Implements Gables's CARS Program as a District-Wide Initiative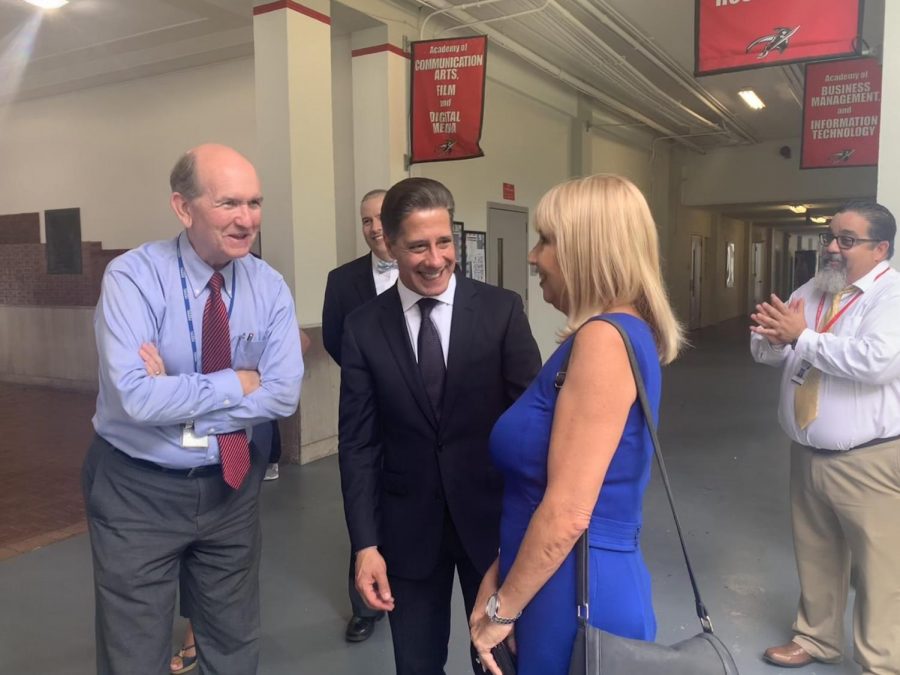 Last school year, when superintendent Alberto Carvalho won $10,000 from the Urban Superintendent of the Year prize, he knew that he wanted to allocate a portion of these funds for scholarships. However, he wanted to help more than just one student.
In hopes of providing more students with scholarships, Carvalho launched a "Shark Tank" type of competition called the "Superintendent's Student Innovation Challenge." He reached out to the community in hopes of expanding his reach for this project. Carvalho ultimately succeeded as businesses began matching his contributions, amassing over $60,000 dollars to be given out to students.
This challenge sought to engage high school students in identifying a real-life problem to which they could find a solution. The selected issues had to fit into one of three categories – environmental, health, or social – and be summarized in a 15 to 20 page proposal.
After being evaluated, the top four highest-scoring proposals from each of the categories moved on to the following round. Finalists were then placed in an entrepreneurial pitch coaching course where they prepared to deliver a three-minute pitch for the problem at hand as well as the potential solution.
Superintendent Carvalho then proceeded to select a winner from each of the three categories. The scholarship was then divided between the two students from each group, granting them a total of $10,000 for their post-secondary education.
When Ms. Khushnuma Driver told Maria Estrada and Christian Ochoa about the opportunity, they had exactly one day to write the proposal. However, the time constraint did not faze them from jumping on the opportunity. They quickly put together their project proposal and, little did they know, held a proposal worth $20,000 in their hands as they presented their issue. Estrada and Ochoa were passionate and vocal about the issue of high school students not getting the proper help they needed concerning the college application process and the transition from high school to college.
Their proposal detailed the implementation of the College Admissions Readiness Symposium (CARS) program in all Miami-Dade County Public Schools (MDCPS). This program allows rising seniors to receive all the possible help they will need when it comes to all things college-related. With the help of their teachers and counselors, students engage in activities that teach them essential skills such as resume-building and college application essay-writing. 
Carvalho took particular interest in their proposal, as it was not only achievable but also extremely beneficial to any student wanting to continue into post-secondary education.
In order to learn more about the intricacies of the program itself, as well as what students had to say about it, Carvalho stopped by Coral Gables Senior High School. While there, he spoke to Gables graduates Nikita Leus-Olivia, Keyshawn Felton and Brianna de la Osa. These students explained the positive impact that the program had on their transition to college, as it provided them with the necessary tools and support needed to succeed when choosing the school of their dreams. 
"We have a priority and that is to provide additional college assistance. Students from this school inspired us with their proposal at the innovation challenge. Because of them, we want to expand the symposium project and make it accessible for more MDCPS students," superintendent Alberto Carvalho said. 
Afterwards, Carvalho, alongside school board member Mari Tere Rojas, toured the campus and observed the ongoing construction projects. Despite the hassles caused by the construction, they both agreed that these renovations were necessary. The school has enormous potential, yet the exterior does not match the bright minds of the students within. Apart from enhancing the physical appearance of the school, these improvements will also feature better safety attributes for the school. 
"Coral Gables is important to us. However, we have not had sufficient revenue to make a change happen. Now that we do, we want to see this school flourish not only physically but with regard to security. We have installed over 8,000 security cameras in MDCPS and Gables will not be an exception," school board member Mari Tere Rojas said. 
Not only did these two students open the eyes of superintendents and school officials, they were also able to advocate for their student community. Through the superintendent's challenge, Estrada and Ochoa pushed for the creation of a new norm at other schools in the county, which will now be known as CARS. The integration of this program will broaden the horizons of many students by dissolving the unnecessary boundaries keeping students from completing the complex college application process. In addition, CARS will provide a peace of mind for students who participate, supporting them along the path of college readiness before graduation.