Hitting the Gym After Hitting the Books
Hang on for a minute...we're trying to find some more stories you might like.
High school students are very busy, sometimes lacking time for self-care which may lead to lack of sleep, exercise and food. Although the workload of being a high school student can be stressful, it is extremely important to make some time to take care of your body and your mind; in fact, working out can actually reduce stress, so if you have little time to exercise, follow these quick five minute after-school workouts!
"As a senior, sometimes it feels like I do not have time for exercise because I am so busy with college applications and school work, but I can definitely set aside five minutes to work out," senior Melanie Elguezabal said.
Five Minute Ab Workout
Do not worry if you do not have time to go to the gym! This workout requires no equipment and is apartment-friendly. Before you start any workout always remember to stretch as it can prevent injury and improve your performance.
"I tried this five-minute routine this week and I could honestly say that I enjoyed it. Just put some music you can jam out to and dedicate five minutes to a routine like this, and you will see a difference. I even had time to do my school work," junior Sabrina Ojeda said.
1. A Minute of Toe Touch Crunches
Lay down on your back with your legs raised to a 90-degree angle. Reach for your left foot with your right hand as far as you can. Lift your shoulders off the floor while reaching for your toes. Lay back down and reach for your right foot with your left hand. Repeat this for one minute to tone your upper abs.
2. A minute of Scissor Kicks
Lay down on your back with your legs raised to a 90-degree angle. Slowly, begin to lower your legs as low as you can, keeping your upper body and lower back flat on the floor. Start moving your legs front and back in small movements, like scissors. Continue for one minute to work your lower abs and legs.
3. A Minute of Russian Twist
Sit down with knees bent. Bring your hands towards your chest, fingertips touching and elbows out. Lean back as you lift your feet off the floor. Begin twisting your waist, touching your elbows to the floor. Repeat for one minute to work your obliques, upper abs and lower back.
4. A Minute of Plank Twists
First, make sure you are in plank position, with your back straight and your abs tight. Slightly touch the floor with your right hip, and then repeat the same step with your left hip. Continue doing plank twists for a minute to help tone your abs, obliques, shoulders, glutes and more.
5. A Minute of Leg Circles
Lay down on your back with your legs raised to a 90-degree angle and your elbows on the floor. Keeping your back straight and your abs tight, make a big circle with your legs. Repeat for one minute to tone your lower abs and legs, and work on your balance.
Five Minute Cardio Workout
A great benefit of doing cardio is that it may temporarily relieve stress, anxiety and depression while allowing your body to get better sleep. It is important for everyone to take some time to do cardio, even if it is just five minutes!
1. A Minute and a Half of Seal Jacks
Stand up, feet together and hands straight forward, touching palms as if you are clapping. As you jump, open your legs and arms. Your legs and arms should be spread further apart. When you jump again, you will return to the original position as you clap your hands together and bring your legs back together. These are like jumping jacks, but you clap your hands together in front of you instead of above you. Repeat for one minute and a half. Rest for 10 seconds.
2. A Minute and a Half of Butt-Kicks
This exercise will begin with you running in place, but you will kick your legs further back, touching your butt with your feet. Repeat for one minute and a half. Rest for 10 seconds.
3. A Minute and a Half of Side-Kicks
Stand with your arms on your side. Lift up your right leg, and kick it to the right side. Repeat with your left leg. Continue for a minute and a half. Rest for 10 seconds.
"We have more time than we think. If you are really motivated to work out, you can do it. Make a schedule, and stick to it. Get all your work done before like four thirty or five so you can dedicate the rest of your day to exercise," senior Jordan Morejon said.
Having a weekly plan can increase your motivation to do some exercise. You do not have to work out every single day, but even three times a week can make a change both physically and emotionally. You will be feeling more energized to do everyday tasks because of the benefits that come with exercising. It would only take five minutes of your day, so you should definitely try it out!

About the Contributor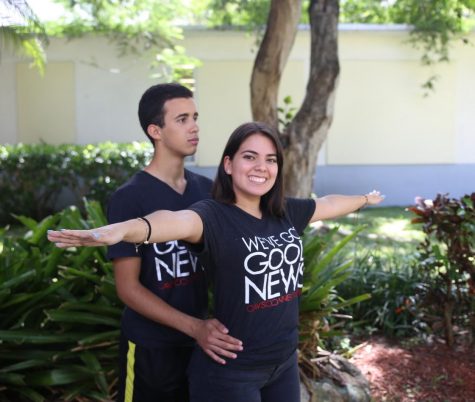 Guiliana Garces, Staff Writer
Guiliana "Gigi" Garces is a senior in the International Baccalaureate (IB) program at Coral Gables Senior High School. As a new member of the CavsConnect...