Reynaldo Gimenez: Challenging Both Sides of the Field
Operating every inch of the field, senior Reynaldo Gimenez is counting on his last snaps with the Coral Gables Senior High football team. Gimenez fills a crucial role as varsity captain and is giving the Cavaliers a fair chance of taking home multiple victories this season.
Following the likings of his father, a professional boxer from Argentina, Gimenez was quickly introduced to punching throughout his childhood. Taking advantage of leisure hours, Gimenez spent the majority of time inside the gymnasium due to his family background. Independence overtime taught him the value of pursuing one's interests, leading him to the sport of football.
Striving towards a higher education, Gimenez enrolled with Law Enforcement Officers' Memorial High School his freshman year. He soon changed his mind and transferred over to Gables because of his maturing love for football. Encouraged by family members, Gimenez's physical stature and athletic lifestyle were driving forces behind his decision to play varsity sports for the Cavaliers.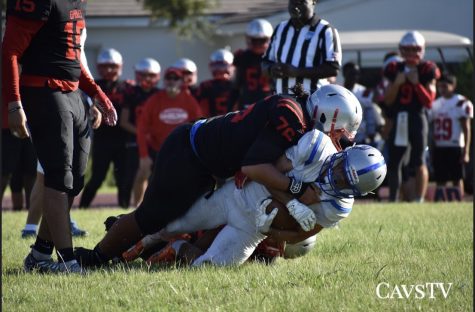 "It was three weeks before my freshman year, and I told my sister that I wanted to play football. She suggested that I transfer to Gables because she knew that they had a good football team, so I made the decision to unenroll from Law Enforcement Officers' Memorial High School to pursue football throughout my high school years," senior Reynaldo Gimenez said.
Revealing his true passion, Gimenez was accepted into the Gables football team as a junior varsity player his freshman year. Gimenez then obtained "real game experience" and was taught the fundamentals of blocking, footwork and hand placement from his coaches while playing both roles of offensive and defensive tackle. Once an interesting prospect, he was promoted to varsity his sophomore year and earned the title of captain along with fellow senior Lucas Paez his junior season.
Gimenez challenges himself daily to remain effective at the line of scrimmage in preparation for each matchup. Standing tall as a left guard, his repeated goal is to prevent opponents from rushing the quarterback and ensuring the play is executed properly. When not shoving bodies out of his way, Gimenez spends the majority of his time after school with teammates, developing close bonds with those in the same uniform.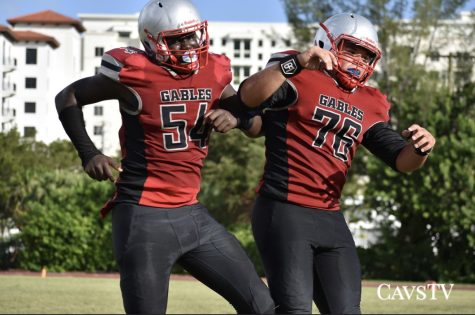 "I think that it is very important to encourage your teammates because it helps to set the tone for practice and games. You don't want your team to come out flat and end up down by 14 points during the first quarter because then the game is gone, so it is vital to motivate and help your teammates for the overall result of how your team does," senior Reynaldo Gimenez said.
Gimenez can be found practicing with Cavalier football everyday at 3:00 p.m. decorated with crimson and grey apparel, weather permitting. The team begins practices by stretching and then moving on to what Gimenez considers  "the most grueling part of practice": conditioning. This is when athletes perform intense exercises in order to refine agility, strength and stamina, all components necessary for game-time.
Concluding on a high note, the team reviews special teams which allows them to practices, avoid mistakes during kicking plays and finalize plays to excel at upcoming exhibitions.
"My favorite part about practicing is probably the team camaraderie. There is nothing like being with the guys every single day building up that bond and brotherhood. I'd say that my experience at Gables has shown me that it is truly one big family and that it is hard, but so worth it," senior Reynaldo Gimenez.
Gimenez also intends to foster a competitive mindset and lift his team high to "make it far" into the school year as he enjoys his last year at Gables. Re-telling stories from previous seasons, Gimenez relies on his football experience as captain and helps his peers stay committed day in and day out.
In pursuit of an engineering major at Florida State University, Gimenez vividly remembers the moments of excitement as part of the Cavalier football team. For now, Gimenez will continue to set a righteous example to younger Cavaliers discovering their purpose.
Leave a Comment
Your donation will support the student journalists of Coral Gables Senior High School. Your contribution will help us cover our annual website hosting costs.