The Cavalier Football Team Charges Head First Into a New Year
With ​​a new year giving a new chance to persevere, the Coral Gables Senior High football team has been diligently working throughout the summer to prepare for the beginning of the 2021-2022 season. Over the past months, they have been practicing extensively every day, touching upon multiple drills to polish up their skills as a team.
Football is a sport that requires strength, speed and agility as players are constantly changing direction and running across the field. As a result, the Gables team works on all types of drills ranging from passing and lateral movement drills to defensive-line drills and even conditioning in the weight room.
All these drills help build a core fundamental asset within each player which aids them with their given roles. While training, they also strive to build upon one another to not only perform better on the field as individuals but also better as a unit altogether.
"We are going to be very young starting out but hopefully, we will be able to grow up before the season is over," Coach Welsh said.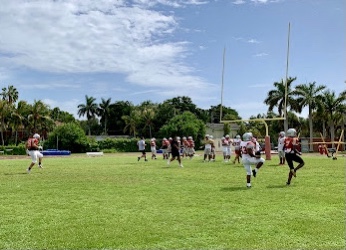 Since June, the team has been working with their new head coach, Frank Welsh. Coach Welsh and his assistant coaching staff are dedicating their time and efforts to prepare this team to the best of their abilities through the use of rigorous drills. He has been part of Gables' staff since 2014 as an Exceptional Student Education teacher and a football coach.
During these past few years, Coach Welsh has coached the girls' football team and been the assistant coach for both boys soccer and girls softball teams. His love for the sport dates all the way back to when he attended South Miami High School and was part of their team. His commitment to the game is endless and he is excited to flourish along with the team as the season progresses.
"I think Welsh has done a great job so far in training us, we see ourselves going very far this year and I believe this is only the start for us and this year," junior Lucas Paez said.
The Cavaliers are set to play their first game against Monsignor Edward Pace High School this Friday, Aug. 27. After their hard work and perseverance, they are ready to demonstrate a new level of improvement achieved after these last few months.
"A lot of people think down on us but we are going to prove them wrong," junior Jordan Tolon said.
And that is what being a Cavalier is all about. Regardless of the uncertainty of the past year, the team is excited to get out on the field and play hard, despite the unknown challenges they may face. Even though it has been strange for everyone because of the pandemic and new health regulations, the Cavalier football team is pushing through it and doing its best so they can dominate this season.