Cavalier Football: Bulldozing Through an Undefeated Season
Lined up on their home turf, Coral Gables Senior High was prepared to storm the field for a third go-around, this time up against G. Holmes Braddock Senior High School. Adding yet another victory to their résumé, the Cavalier football team took advantage of missed opportunities by the Bulldogs to remain undefeated with a 3-0 record.
Even with an hour bus delay on the Bulldogs, this home game took place on Friday, Sept. 23 and began at 5:00 p.m. Despite a scheduling issue, plenty of Gables' fans wandered the stands in hopes of cheering for their alma mater and witnessed this deeply-coveted matchup.
Kicking off from the 35-yard line, the first quarter consisted of heavy offense from both teams. Wearing their signature black uniforms, the Cavaliers efficiently moved the ball downfield with multiple first downs and play calls from Head Coach Frank Welsh. Not having faced each other since 2012, opposing sidelines were eager to prove their superiority in a matter of 60 minutes.
"We really just wanted to stay undefeated, so that is what motivated us in the game…Especially after the season we had last year," senior Lucas Paez said.
"
After winning the game it felt great and was something that we could never forget as a team.  We also have to remember to bring that mindset into next week as it could be a great factor for us to win the district championship,"
— sophomore Billy Saleh
Nine minutes into the first quarter, Braddock lighted up the scoreboard with a passing touchdown, leaving the score seven to zero. Refusing to give in to their frustrations, Gables quickly moved the ball upfield, led by captain Lucas Paez, scoring a touchdown less than two minutes later.
Inspired by the bustling crowd, the Cavaliers aimed to secure their first lead of the game, heading into the second quarter. While Braddock managed the rushing attack, linebacker Dontrell Lipscomb sneaked in head-first with another go-ahead touchdown, boosting Gables' confidence heading into the locker room.
"The environment going into halftime was remarkable. The hype waiting for the players to get back on the field was at its peak. While this, we got to see our cheerleaders perform their dances and stunts. Overall, it was a great environment and the build up was fascinating," freshman Kevin Martinez said
Strategizing new ways to exploit their opponents, the athletes re-appeared more energetic than before and received possession starting in the second half. Expanding its playbook, the football team sustained their lead with defensive minded coaching and grinded all the way into the fourth quarter. Taking victory for themselves, Gables' pulled of a last second rushing touchdown, celebrating a final score of 21-7.
Following an emotional battle, fans and players alike screamed and were ready to jump on the victory bandwagon.  Additionally, the team shook hands with Braddock and performed one last team huddle to acknowledge their third consecutive win of the season.
As exciting as the environment proved to be, these Cavaliers will make strides towards their homecoming game against Palmetto Senior High School on Sep. 30. Chasing a perfect reputation, the football team will shuttle to Tropical Park and grasp at yet another triumph.
Leave a Comment
Your donation will support the student journalists of Coral Gables Senior High School. Your contribution will help us cover our annual website hosting costs.
About the Contributors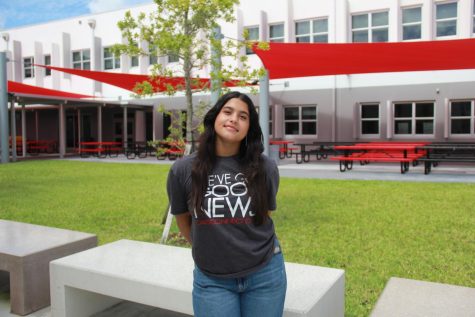 Selena Feal, CavsConnect Staff Writer
Selena Feal, a freshman in the International Baccalaureate program, is excited to show off her Cavalier spirit as a member of CavsConnect. Selena has a...