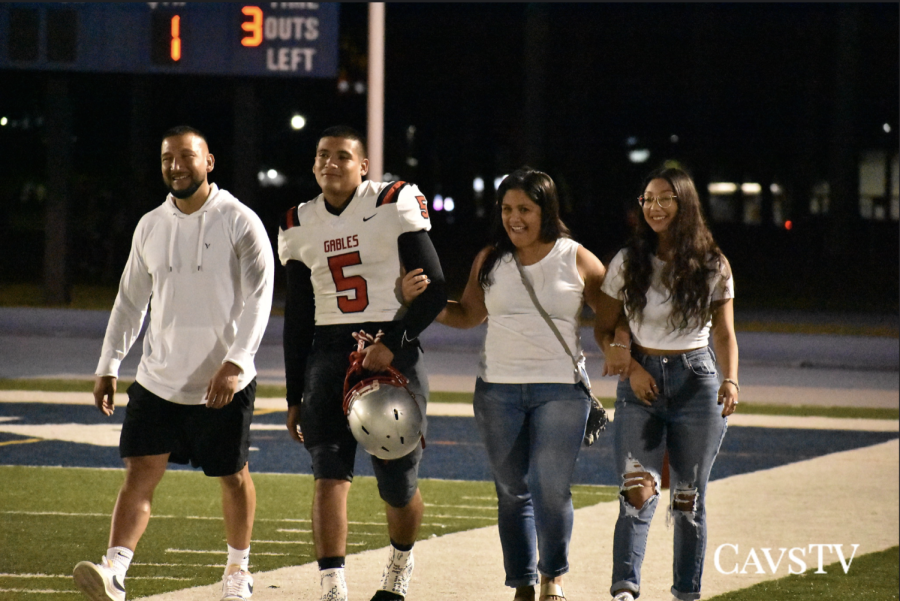 Lucas Paez Finds his Home in Cavalier Football
Dodging tackles left and right, senior Lucas Paez is taking charge of his final season with the Cavalier football team.
The starting running back for the varsity crew, football has been a centerpiece in Paez's life ever since stepping foot on the field. While he excelled all-around in sports, Paez enjoyed football more than anything, especially since it runs deep in the family. In fact, both his father and uncle played varsity football for the South Miami Cobras, and his uncle continued to play collegiately at the Division 2 level.
"My dad has always taught me to respect people and to always treat everyone equally…He also taught me that in football if you want something you have to work for it. It's a long process of grinding to reach your goals," senior Lucas Paez said.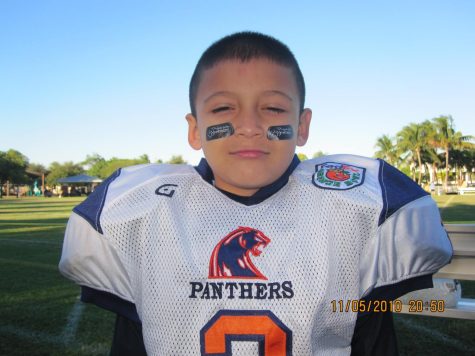 Showcasing his talents across Miami-Dade, Paez began his journey to football by playing in local sports leagues such as Pop Warner and Xtream League football. Throughout his childhood years, he was introduced to the fundamentals of the game from proper ball security to tackling drills. Applying the lessons from the field, Paez was largely familiar with the intense environment that characterizes high school sports.
Paez elected to join the Cavalier family because of its community feel and the amount of talent that surrounded the program his freshman year. Although he was largely a running back, Paez also played as a defensive tackle and linebacker by his coaches during games. Over time, he would acquire different skill sets, such as rushing the passer and quickness off the line of scrimmage, from playing multiple positions at the same time.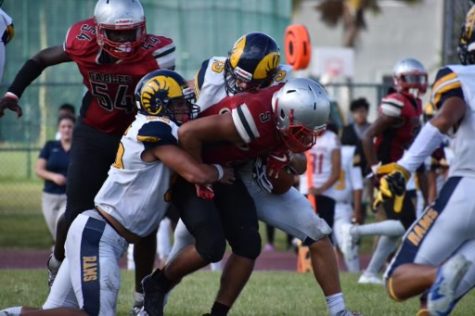 "One of the moments I recall is my sophomore year, I was given the chance to play my first varsity game and I was starting for the first time in high school but it was a difficult game for me because it was my first start and I didn't produce the way I was supposed to. I was taken out after the third quarter and not put back in and what this showed me is to always go 100% and make the most I have out of the opportunities I was given. So that moment really stuck with me and the way I approach games," senior Lucas Paez said.
Inspiring those around him, Paez's commitment to the sport and ability to lead is what initially earned him the title of football captain. Taking bits and pieces from past seasons, Paez always expects maximum effort out of the crimson and grey players. Additionally, Paez has learned how to conduct himself as a player and to always treat his opponents with respect.
"I want [my teammates] to take from me the fact that I'm always in a good mood and appreciative of the opportunity to be playing football and I hope they see the example I set always trying to uplift them and make it a fun team to be on," senior Lucas Paez said.
Picturing his post-high school life, Paez aims for a college that will grant him the ability to stay close to home. Placing family first, this Cavalier draws much of his success from relatives and those who supported him every time he stepped foot onto his home terrain.
Leaving behind a strong brotherhood of players, Paez intends to put up big numbers during the 2022-2023 season. Making headlines thus far, Paez has led Gables' football team to a 2-0 record and is living out his final moments on the field as a true Cavalier.