When asking any player from the varsity volleyball team, senior and captain Audrey Noval is most notable for extending numerous plays on the court and most importantly, for her upbeat attitude. The captain takes the court by storm in every game, striving to win no matter the circumstances. Noval's path to solidifying her role as captain was shaped by mentors and experiences that blossomed her passion for the sport.
She initiated her journey into volleyball in fourth grade. Previously, Noval was involved in IDOL cheerleading because her mother, Ms. Noval, wanted her to continue the family legacy. At the age of 4, she was already performing stunts in front of her parents.
"It didn't take much to fall in love with [volleyball], it is the best sport I've ever played and I don't regret changing my sport at all," senior Audrey Noval said.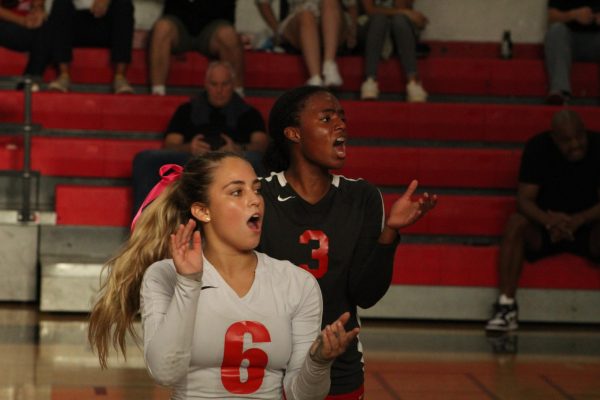 However, Noval started visiting the Coral Gables War Memorial and Youth Center as a tweenager, interested in a new sport. Her father introduced her to volleyball and taught her fundamental skills like passing and serving.
"My dad really opened my eye on the sport, he's the reason I play it and he's done a lot to bring me where I am today," senior Audrey Noval said.
She instantly fell in love with the sport and decided to drop cheerleading. Once she discovered opportunities to play competitively,  Noval joined the Gables Volleyball Club to manifest her passion.
Attending Coral Gables Preparatory Academy, Noval continued to play volleyball for GVC as her school did not offer the sport. Her main position was libero, which consists of digging for low balls and passing throuhout the game.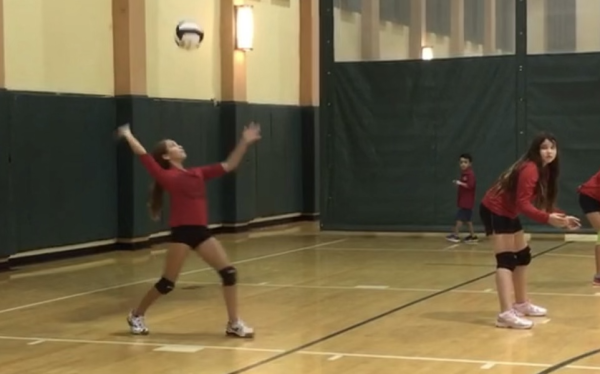 Her journey continued at Coral Gables Senior High. All of Noval's training was leading up to her place on the team freshmen year. Despite feeling intimidated and pressured to join the team, she remained poised throughout every test of conditioning, hitting skills and teamwork, making all her training and hard work worth the rewards. Her coaches were impressed, designating her to the varsity team as a backup libero.
"I just love the sport's aspect of it. It was a great way to be involved in the school especially because it was during COVID. I really like having a team to play with and volleyball being an indoor sport, it's not super stressful," senior Noval said.
Like countless of great athletes, Noval's athletic success began unexpectedly. During a regular season game, Noval entered the game as the freshman libero when the starting libero broke her finger. She started for the rest of the season, filling in a role that she deeply covets today.
"My first time playing libero was really scary. The whole team was seniors which made me very nervous playing because of all the pressure that I had as a freshman playing varsity, but the seniors really helped me get past that and they just helped me as a player and encourage me," senior Noval said.
The captain shares a tight relationship with her former captain in 2022, Avery Felix. Both Noval and Felix have continuously been in touch even though Felix has graduated and is currently attending Duke University.
"Audrey's been on the team since her freshman year and has really grown to know the style of Gables volleyball. She also has a deep love for the game but has always stayed lighthearted about it which has helped her grow into a perfect captain that is passionate, caring and knowledgeable," alum Avery Felix said.
It was last season that Noval realized the player she is today. This season, Noval strove to mimic her former captain by cracking jokes every once in a while to keep the team's emotions during a frustrating sequence of events.
"She's really good at keeping her attitude up and even if we start doing bad she doesn't keep that from messing her up, and it doesn't seem to get to her head a lot which really helps the team. She's good at lifting people because of her jokes on the court and how supportive she is," sophomore Corina McDanal said.
Practice sessions are usually held after school until 5:00 p.m. for the Lady Cavaliers. There, Noval focuses on sharpening her reflexes to serves. As libero, she must also dedicate a lot of hours to perfecting her passes, especially towards the middle and outside hitters.
"The girls were really nice and opening, especially the seniors through the years. So I try to give that to the team now and because I'm a senior and I want to encourage them," senior Noval said.
Since her beginner days with GVC to now embellishing her senior year with memories, Noval aspires to continue playing volleyball in the future. When she attends college, she hopes to return to Gables and visit her teammates as much as possible.