Baseball Star and Captain: Uncovering Idail Diago's Journey
Touring ballparks across Miami-Dade and Broward County, senior Idail Diago returns to the diamond as Cavalier baseball's newest captain. Diago continues to excel as a full-time starter for varsity, however, like most ball players, his road to the sport commenced long ago.
Diago's father originally introduced him to baseball. Although his father never went professional in Cuba, he was determined to lead the next generation of baseball athletes. Upon moving to Miami, the senior's father began developing his five sons. 
"[My father] was just another guy in Cuba who played baseball but it was not organized baseball, it was just for fun with the poor quality equipment they had at the time. He honestly was an amazing coach to me, he would practice with me every day from the age of five until I [turned] fifteen," senior Idail Diago said. 
"
It was like a business, when [my father and I] stepped on the field, complete baseball practice only…We mostly practiced one on one skills like catching ground balls and hitting 300+ balls in a couple hours,
— senior Idail Diago
Engrounded in his family sport, Diago spent hours at a time inside the batting cage or catching grounders from his father. As he grew older, Diago pursued baseball for competitive reasons by joining the Guillermo & Taylor baseball team, located at Fern Isle Park. He was five-years-old. 
Replete with baseball knowledge, Diago has stained dozens of uniforms throughout childhood. Some of his former travel teams include Miami Phenoms Baseball Academy and Miami Outlaws Baseball. With these ball clubs, Diago has played in nation-wide exhibitions like the Cal Ripken Jr. Tournament and Cooperstown Summer Baseball Tournament.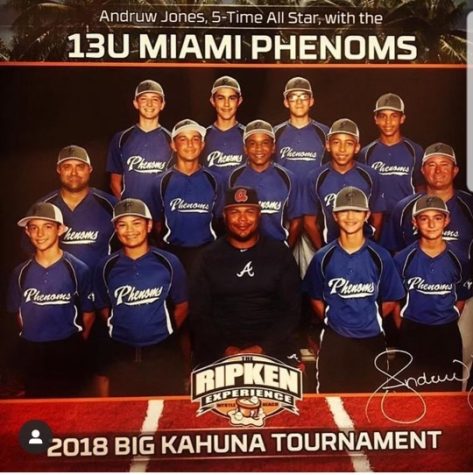 From eighth grade onward, the Cavalier jumped from the freshman team to securing a varsity position. Despite playing a few games his freshman year, he was slowly inserted into the starting lineup with time. Motivated throughout his junior year, Diago posted a .407 batting average, enough to be recognized on the 2022 7A-16 All-District Team.
"I would like to say I have matured immensely. To be honest, I was super immature freshman year but slowly previous seniors taught me how to be a leader. Now I like to pass on the same skills that old seniors presented to me to the underclassmen. Leaders have to be mature," senior Diago said. 
Diago is notorious for leading his teammates during crucial moments. Entrusted with the title of captain, he either plays centerfield or pitcher. Leading the outfield entails a lot of communication, however, Diago is also responsible for empowering his Cavalier teammates from the mound.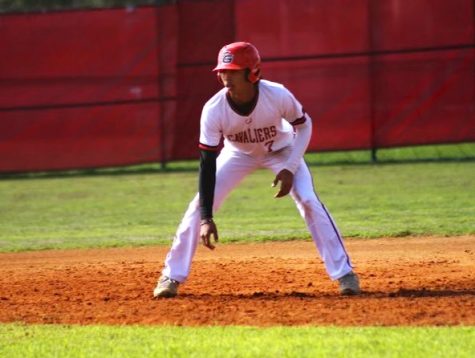 "Idail is a really good captain because he does not get down when he is having a bad day and is always there to pick up his teammates. We played together as [kids]…He was still the same player back then, really smooth and he would dominate," senior Tommy Tamargo said. 
Handling both positions simultaneously, Diago usually changes his daily training regimen. The Cavalier may work in the outfield for 15 minutes and then switch to a pitching workout.
"I usually just rotate or if for example one day I want to focus more on a certain position, I stay there for the rest of the practice," senior Diago said. 
While many high-school athletes tend to their individual success, Diago always gives back to the community. Currently, he is an assistant coach for the Blue Devils Academy located at the Coral Gables War Memorial Youth Center. 
"One of my current coaches presented the opportunity to teach young kids at his academy [in Coral Gables] how to play baseball and I've always liked passing on the passion and love I have for the sport. So, I immediately said yes and I enjoy every minute spent teaching every kid how to perform at a higher level," senior Diago said. 
Baseball games are in full swing and Diago intends to make the 2023 season worthwhile. Although collegiate baseball is a possibility, Diago knows the sport will accompany him wherever he goes.  
"My mom always inspired me to be a hard worker and to not have people hand feed you things. My end goal has always been making it as far as I can, even if it ends in high school," senior Diago said. 
Leave a Comment
Your donation will support the student journalists of Coral Gables Senior High School. Your contribution will help us cover our annual website hosting costs.
About the Contributor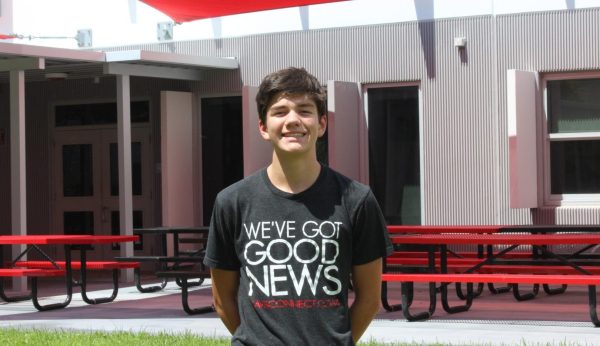 Andres Rodriguez, CavsConnect Sports Editor
Andres Rodriguez is a junior and retains the title of CavsConnect Sports Editor. Studying in the International Baccalaureate program, Andres is looking...