Volleyball and Gables: No Trouble for Corina McDanal
Steering her focus toward high school life, freshman Corina McDanal understands her role as a setter for the Coral Gables Senior High girls volleyball team. Desiring a second home, McDanal strives to make her alma mater proud by joining plenty of activities throughout the 2022-2023 school year.
Positioned on the right side of the court, McDanal originally discovered her athletic capabilities when she was just 10-years old. From her everyday hobby to sharpening her teamwork skills, McDanal practiced on weekends at a nearby court while simultaneously improving her craft alongside close friends.
Taking her passion to the next level, McDanal embarked on a new journey with the Tribe Volleyball Club in Miami. Whether it be at practice or a tournament, she familiarized herself with serving and passing, both skills necessary for high school volleyball.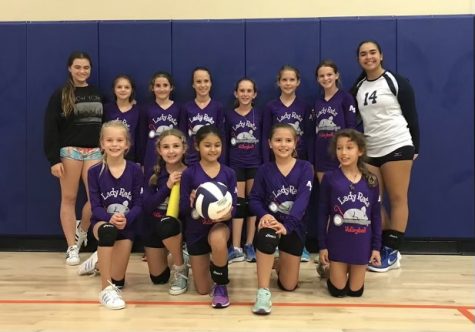 "I started playing when I was ten years old in a small recreational league where I used to live, and then once I left, I had friends who started playing [volleyball] in a club and of course I joined them. Since, I really enjoyed the sport for so many years, I tried out for [volleyball] here at Gables and thankfully I got in varsity where it is now my favorite sport," freshman Corina McDanal said.
Digging for every loose ball, McDanal has learned to maneuver possible situations that may present themselves on the court. Aside from running the Gables offense, her main responsibilities involve communication and surrounding her teammates with encouragement.
Ingrained with a competitive mindset, McDanal prioritizes team chemistry and ensures girls volleyball is focused on a common goal: winning a district championship. So far, McDanal leads varsity with 42 serving aces and has helped the team attain a winning record.
"I was extremely excited to have Corina on the varsity team. She brings a certain quality to the team that has been missing. She makes everyone around her want to step up and that is a quality that can not be taught and that sets her apart. She will only grow exponentially in the coming year," volleyball head coach Monica de la Vega said.
Despite her emergence as an outgoing athlete, McDanal finds joy in the expectations that haunt most freshman on a varsity squad. Pushing herself to the limits, volleyball often indicates hard-work for this dedicated Cavalier.
"I absolutely love being on the court with the team during practice and tournaments because we all have one goal in mind, winning for our alma mater," freshman Corina McDanal said.
Aspiring to stay well-rounded, McDanal was intrigued by the annual club fair and decided to join Best Buddies, Science Honor Society, Key Club and the International Baccalaureate Honor Society. Looking for balance, McDanal has established a middle ground between her studies as well as competitive sports. Additionally, she plans to tryout for girls basketball and flag football, making it crucial to keep an organized schedule.
"I balance both my academics and athletics by using my free time to get work done for my classes since I do not have as much time when I get home", freshman Corina McDanal said.
Hoping for success on and off the court, McDanal is prepared to take advantage of all that Gables has to offer this school year. Envisioning long-lasting friendships and memories, this Cavalier demonstrates true determination for the road that lies ahead.
Leave a Comment
Your donation will support the student journalists of Coral Gables Senior High School. Your contribution will help us cover our annual website hosting costs.
About the Contributor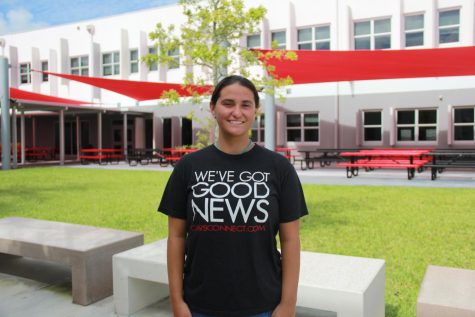 Jacqueline Rodero, CavsConnect Staff Writer
Jacqueline Rodero is a senior in the International Baccalaureate program. This is her second year as a CavsConnect staff writer. As she closes her time...