Diego Imbert: Wrestling his Way to the Top
Locked in for his second consecutive season on the mat, junior Diego Imbert strives to lead Cavalier wrestling to a state appearance this school year. Imbert was selected to be co-captain after years of dedication to the sport he truly loves.
Imbert's expertise in martial arts stems from his participation in his local judo club beginning in third grade. Although he was unfamiliar with combat sports, Imbert soon developed a passion for throw-downs and pinning opponents to the floor. He improved his skillset by competing in the Junior Olympics prior to high school.
Ranked fourth in his age group, Imbert made highlights at the 2018 Pan-American Judo Championships in Ecuador. Imbert joined the United States wrestling team in order to showcase his physical technique to other thirteen-year-olds across the globe.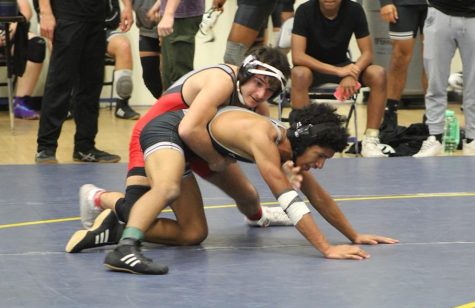 "Competing at the [inter]national level is one of the greatest experiences that I have had the pleasure of having in my life… I would not trade it for the world. Being able to play at such a high level means a lot to me because it shows how hard I have worked to get where I am now, and it gives me motivation for the future," junior Diego Imbert said.
Imbert transferred to Coral Gables Senior High as a sophomore without much knowledge about the athletics program. Initially, he played for the Cavalier junior varsity football team with hopes of discovering his personal niche. It was not until wrestling coach Hardy approached Imbert that his true potential on the mat was recognized.
"Even though it is his first year as a co-captain for Gables wrestling, you can tell that Diego is a natural leader. Not only does he have experience from other combat sports, but he has shown that he can work with the other captains and coaches in order to prepare us for our future meets," senior Rafael Aguilera said.
Imbert's opening season was cut short due to a metacarpal fracture. Although he only wrestled for a month, he attended every practice from the sidelines. His commitment as a sophomore awarded him the title of captain in his junior year.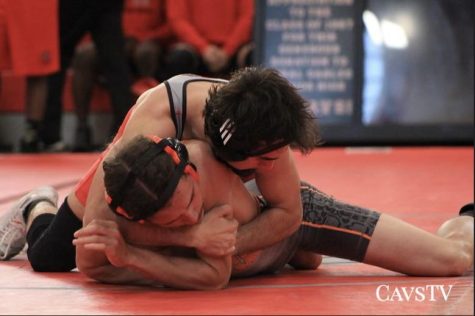 "When I was injured, I would show up to practice every day no matter what. Even if it was just to watch the team practice, I just wanted to do all I could to help my team. Even when I finally returned from my injury, I would take the metro and get home very late so that I could practice and be a part of the team," junior Imbert said.
Always on top of his game, Imbert takes practice very seriously and is constantly improving his techniques. Imbert uses the weight room to increase his strength before difficult matches. Training sessions may include perfecting familiar moves or learning new techniques that prove effective on the mat.
"Diego is a prime example of a leader in our team. You can always see him working with us and with Coach Hardy and the other captains to help practice our moves and get ready for the future. He leads by example, and he serves as a great role model and teammate for the rest of his peers," sophomore Alessandro Gregori said.
Building friendships inside and outside of the gym, his team chemistry makes for wins against schools across Miami-Dade County. Capitalizing on his first shot as wrestling co-captain, Imbert hopes to embellish his capabilities both individually and as a leader. Wherever the 2023 season may take him, Imbert has found a second home on the mat.