Athletes of the Month: January Edition
As the winter season is finally starting to melt away and the bright colors of the spring sports are coming to replace it, there were some amazing accomplishments made by the winter athletes during the season. Several athletes have left their mark on their respective playing fields and have been recognized for their dedication and determination during practice and their overall vigor during play. The following athletes have shown just how much they are willing to push in order to achieve victory:
Jan. 12 – Jan. 19: Chase Bagnall-Koger

Junior Chase Bagnall-Koger found her passion for soccer when she was in the first grade, after practicing at the Coral Gables War Memorial Youth Center. This was a passion that she discovered only grew inside of her the older she got. After leaving middle school and coming to Gables, Bagnall-Koger decided that she wanted to join the Lady Cavalier Soccer team as a way to become more involved with the school, as well as a way to make some new friends.
For the first time in several years, the Lady Cavalier Soccer team was able to win the district championship. The 2019- 2020 season has proved to be one of the most successful seasons yet for the girls' soccer team, having been the undefeated champions in their district all season long.
"I've learned that I need to have a lot of patience with other people and with myself on the field. Getting frustrated is counterproductive and making sure all criticism is constructive is a key part of being on a team," junior Chase Bagnall-Koger said.
This season, Bagnall-Koger was hoping to focus on her endurance as well as getting into a rhythm with her new teammates all in order to improve herself as a competitor and a teammate. Thankfully, all of her hard training paid off because Bagnall-Koger was able to score three goals against Mater Academy, leading the Lady Cavaliers to a 6-0 victory on Jan. 7.
Jan.19 – Jan. 26: Jamil Lane
Sophomore Jamil Lane decided that he wanted to see what basketball had to offer for him when he was in the sixth grade. After he found out that he loved the sport, he continued playing through seventh and eighth grade. Since then, Lane has played up until his sophomore year in high school.
Lane has enjoyed the overall environment that being on the basketball team has shown him. He has enjoyed meeting and playing alongside new people, and even forming lasting bonds.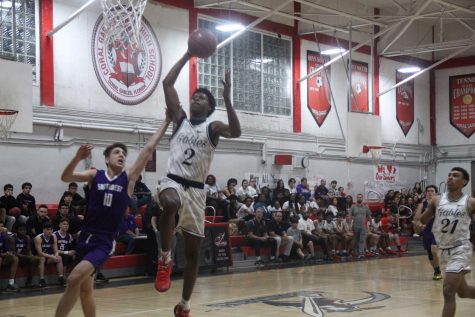 This season, Lane was looking forward to the possibility of qualifying for the state championship. However, the Cavalier Basketball team only made it to the semi-finals for the regional championship competition.
That did not stop him from putting everything he had into every single game and practice so that he could improve upon himself more than his previous season. Lane scored an average of 22 points, 7 rebounds and 2 blocks, which helped his team defeat Christopher Columbus High and Miami Senior High on Jan. 14 and Jan. 23, respectively.
Jan. 26 – Feb. 02: Jason Wood
Senior Jason Wood started playing soccer when he was around three years old, deciding that he fell in love with the sport ever since he kicked a soccer ball for the first time.
Upon his arrival at Coral Gables, Wood decided that he was going to follow in his brother's footsteps and try out for the Coral Gables Soccer team. However, during his freshman year, Wood's academy team did not permit him to play for the high school team.
"This year, the team performed even better than I had expected. We made it farther than I have ever been before during my time at Gables. I am really happy to have been part of such an amazing group of guys," senior Jason Wood said
As co-captain of the Cavalier soccer team, Wood's goals were to try and get the team to Greater Miami Athletic Conference (GMAC) competitions and the regional championships, as well as strengthening the bond between all of the players.
On a more personal level, Wood hoped that he would be able to guide his teammates in a more professional manner, as well as be someone that they could all look up to on and off of the field. Jason led his team to GMAC finals after he scored two goals and two assists against the Columbus Explorers on Feb. 4.
---
All of the athletes have worked hard during the winter season to try and position themselves and their team for a chance to qualify for district, regional or even state Championships. All of the athletes of the week for the month of January have trained hard and learned the importance of teamwork, as well as respect for all of the other players. These qualities have helped to make the Coral Gables Senior High winter sports teams successful and influential in the lives of Cavalier student-athletes.