Athletes of the Week: October Edition
With the fall sports season coming to a close, various Cavalier student-athletes sought to leave their impressions on and off the field throughout the month of October. These athletes displayed unparalleled effort while intimidating their opponents with tremendous heart and determination. A few Cavaliers have been recognized not only for their athletic talent, but also for their dedication to being outstanding teammates. Below are the remarkable Cavaliers receiving Athlete of the Week honors for their athletic contributions during the month of October.
Week of Oct. 13-20: Alexandre Chevalier
Junior Alexandre Chevalier has recently picked up cross country, a sport that caught his interest just in the nick of time. His novelty in the running sport posed a challenge for him, but Chevalier did not quit. The junior cross country runner has practiced relentlessly, drilling himself to be the best at what he does.
Chevalier recently placed fifth overall at the Cross Country 305 Classic, a meet hosted by Miami Coral Park Senior High. Chevalier possesses a quality that simply cannot be taught: unselfishness. While he is grateful for receiving the Athlete of the Week title, he pays homage to his teammates and praises them for making his transition to the sport incredibly easy and enjoyable, while also giving him the opportunity to shine.
"As I cross the finish line, I think about how nice it is to get what you want after all the hard work that you put in. Especially since this is my first year, it is fulfilling in a sense," junior Alexandre Chevalier said.
Week of Oct. 20-27: Iliana Ravelo, Stephanie Monroy and Mary Rodriquez-Finales
Iliana Ravelo, Stephanie Monroy and Mary Rodriguez-Finales were chosen as a trio for the weekly athlete recognition. Along with an honorary senior swimmer from another school, the team took down both South Dade Senior High and MAST Academy in the 200 Freestyle Relay.
Junior Iliana Ravelo is passionate about her swimming technique and her keen focus. She started swimming competitively when she was ten years old as her parents encouraged her to pick up a sport so she would be active. Ravelo takes pride in her work ethic, practicing every single day in the pool and in the gym.
"I go to practice and I have a really good time with my friends. They help me realize that if I work hard enough to reach my goals, I will be able to achieve them. When I jump in that water, I focus on the black line at the bottom of the pool and there are no distractions, just my goals and myself," junior Iliana Ravelo said.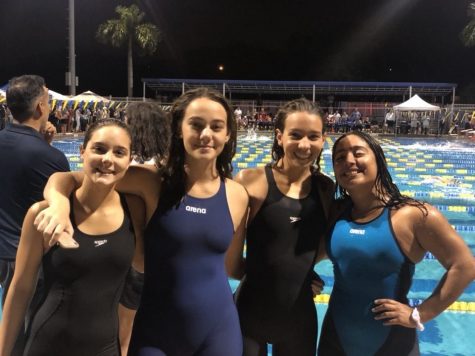 One of the people who pushed Ravelo to perform her best is her teammate Mary Rodriguez-Finales. The junior duo began swimming competitively at around the same age.
As a freshman, Rodriguez-Finales knew that swimming for the Cavaliers was going to be challenging, yet fun at the same time. Waking up early to practice and conditioning to compete, Rodriguez-Finales holds many memorable moments during the season very dear to her heart.
"My favorite moments this season always include my teammates, who are my really good friends. The opportunity to go to the regional championship competition was amazing. We were all very hyped up, yet we were so nervous at the same time. We got through it together and I could never take that for granted," junior Mary Rodriguez said.
The relay team could not be complete without a sense of great inspiration. Junior Stephanie Monroy will admit that she is not a perfect swimmer, but she never stops working on improving her skills.
Monroy draws inspiration from other swimmers, admiring how fast they get from one end of the pool to the other in a matter of seconds. She takes the Olympic performances from 2008 and 2012 and studies them, aspiring to swim just as fast as those professional swimmers one day.
"The satisfaction I get from dropping my time, placing first and hearing my teammates cheer me on and give me feedback on what I can do better really motivate me to keep striving to improve," junior Stephanie Monroy said.
Week of Oct. 27- Nov 3: Colin Wilson 
In the final week of October, senior Colin Wilson won Athlete of the Week honors for his skillful performances on the cross country courses and his outstanding leadership. His adoration for running began in the seventh grade, when his cross country coach asked him to be a part of the team. Willingly, Wilson joined the team and the rest is history.
Recently, Wilson finished first overall in the district championship meet on the week of Oct. 20, leading the boys' cross country team to the regional championship competition.
Colin Wilson, along with the other phenomenal athletes of the month, shows his perseverance through his strict work ethic. Wilson is always active, constantly biking on the side of the road or swimming in a pool to remain in shape.
---
These Cavalier athletes of the month are exceptional examples of what the Cavalier spirit is all about. These student-athletes give it their all to make it to both the top of their classrooms and their respective playing fields, tracks, arenas or pools. With the winter sports season on the rise, these athletes serve to inspire the Cavaliers who take pride in their winter sports. The Cavalier spirit is strong, and it is undeniable that these athletes demonstrated the importance of sacrifice, team work and determination throughout the month of October.