The 2019 US Open: Older Legends or New Spotlights?
The United States (U.S.) Open Tennis Championship is back and better than ever. This year's edition sees the return of household names like Roger Federer, Novak Djokovic and Serena Williams along with the rise of break-out stars Coco Gauff, Naomi Osaka and Nick Kyrgios. With the return of prime-time nights at Arthur Ashe Stadium, anyone could take the title.
Tennis is a sport with many surprises, both on the men's and women's side. On the men's side, the more experienced contenders dominated the opening rounds. Roger Federer, winner of 20 Grand Slam titles, convincingly won his first four matches against mostly unseeded competition.
Federer only dropped two sets in his first four matches. He comfortably beat his quarterfinal opponent David Goffin—who is ranked number 15 in the world—in three sets, propelling him into the quarterfinals.
"My favorite male tennis player is Roger Federer and my favorite female tennis player is Bianca Andreescu," freshman Daniella Doce said.
In the quarterfinals, Federer had to face off against Grigor Dimitrov, a Bulgarian player who has had his share of  success. Everyone expected Federer to win, but fans were shocked when Dimitrov took down Federer in five sets (3-6, 6-4, 3-6, 6-4, 6-2). 
Tennis is unique in the way that the score is kept. Each point that is contested is given a variation of values. After gaining four advantages, a player will have tallied 40 points, needing one more advantage to win that particular break. If both players end up scoring 40, a deuce is called, where the player must score two consecutive advantages to win the break.  If a player wins at least six breaks, they win the set. In the men's match it is a best of five sets and in the women's game it is a best of three sets.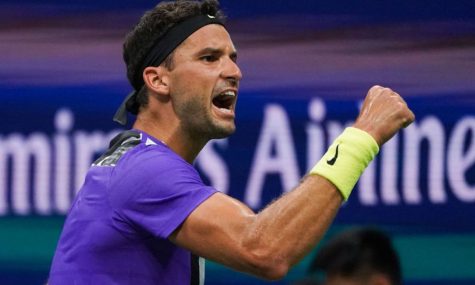 The reigning champion and number one seed, Novak Djokovic, also had a comfortable start to the tournament, not losing a single set during his first three matches. Everything seemed to be going well for Djokovic until he faced number 13 in the world, Stan Wawrinka.
The match was electric. Each point was either brutally fought for with a stunning rally or a powerful ace. The game picked up intensity as a result of the energetic crowd at Arthur Ashe Stadium. Most people would have picked the reigning champion over Wawrinka. However, when Djokovic lost the first set, everything started to go south for the Serbian.
A shoulder injury caused issues in Djokovic's game. He started committing double faults more frequently than a competitor of his caliber generally does. He would drop points and end rallies by just slamming the ball into the net and then proceed to curse himself out. After he dropped the second set (7-5), all hope seemed lost for the Serbian. His injury got so bad that he had to retire three breaks into the third set, causing his departure from the stadium to be a disappointment for fans.
"It was disappointing to see Djokovic retire. I definitely thought he would go very far in the tournament," senior Axel Panameno said.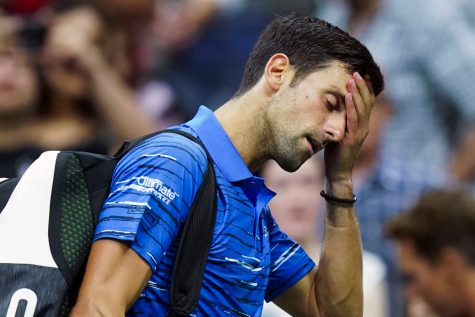 On the women's side, several upsets have been prevalent. During Wimbledon 2019, one name caught the attention of tennis fans all around the world: Coco Gauff.
Gauff is only 15 years old and she made it to the round of 16 at Wimbledon. What was so special about this run wasn't just how far she went, it was also because of what she did to get there.
Expectations were already high for the 15-year-old. Gauff won her first two matches at the US Open with a bit of turbulence. She dropped two sets against unseeded competition. With her first two victories, she had made it to the round of 32. However, she had one major player to face: Naomi Osaka.
The 21-year-old Japanese player is the current world number one and reigning champion after she beat Serena Williams in the 2018 edition of the U.S. Open. Both Osaka and Gauff are rising talents in the world of tennis, so it was a highly anticipated match. While Gauff showed heart during the first set, it was Osaka who came out on top in straight sets (6-3, 6-0).
Osaka would go on to lose her next match in straight sets to seed number 13, Belinda Bencic.
How can we talk about tennis without mentioning Serena Williams? The 23-time Grand Slam winner has had a very strong tournament. In her first five matches, she only dropped one set and landed herself in the semifinals, continuing her legacy as one of the greatest of all time.
Even though this year's edition has not yet concluded, it has still reaped a lot of excitement. From the legends to the newbies, it is anyone's game as the sport of tennis evolves with legendary and young talent taking the spotlight.