European Soccer Giants Clash in Our Own Backyard
Hang on for a minute...we're trying to find some more stories you might like.
Two of the most prodigious soccer teams in Europe traveled to South Florida to bring quite the spectacle to the United States. On the night of Aug. 7, the highly anticipated duel went down; Barcelona and Napoli clashed in an overcrowded Hard Rock Stadium.
Barcelona, the winner of the Spanish soccer league, faced off against Napoli—the second-place team in the Italian soccer league. These star-studded soccer teams played the first of two friendlies in Miami, but they did not hold anything back. Soccer fans all over the world watched their fantasies become reality as these teams played against each other for the first time in five years.
During the first half, Barcelona underwhelmed fans and played at an unusually low level. They did not generate many chances to score goals, and the looks that they did get usually ended up wide of the goal. This was the case until Sergio Busquets – a midfielder for Barcelona – scored a goal from just outside of the penalty box. The ball bounced across the ground and managed to find the bottom right corner of the goal.
While Barcelona had struggled up to that point, Napoli was able to create better opportunities to score. However, Barcelona's defense ultimately prevailed. In the 19th minute of the match, Napoli attacker Lorenzo Insigne went one-on-one with Barcelona's goalkeeper Norberto Neto, who made an amazing save.
"I was relieved because Napoli was playing Barcelona's defense like a fiddle, so it was good to see that Neto is always alert and ready," freshman Nathaniel Leiva remarked.
During the 41st minute of this intense contest, Napoli was finally able to score. Jose Callejon's shot at the goal was unfortunately deflected in by Barcelona defender Samuel Umtiti. Thus, the game was tied up at one apiece and the crowd went wild.
In the second half, Barcelona attempted to rally, fortifying their defense and offense. Napoli maintained their attacking strategies from the first half, which seemed to get them open looks at the goal despite Barcelona's defense. Barcelona relied on star power to get them through the match, adding pressure on Napoli.
When Barcelona needed him most, midfielder Ivan Rakitić managed to net the ball with a driven shot that stayed on the ground until it found the bottom left corner of the net.
"Rakitić's beautiful goal caused mass celebration among the Barcelona fans," freshman Ryan Jaen said.
When time expired, Barcelona fans cheered wildly as their team came out victorious over Napoli, winning with their own two goals to Napoli's one. Although it inevitably came to an end, it was quite the experience to witness two of the greatest teams in Europe battle it out right here in Miami. Both teams will look to dominate in their respective leagues once their campaigns begin. Whether you are a fan of the Spanish soccer league or the Italian soccer league, there is no doubt that these teams are fun to watch as they put up a fight against any opponent.

About the Contributors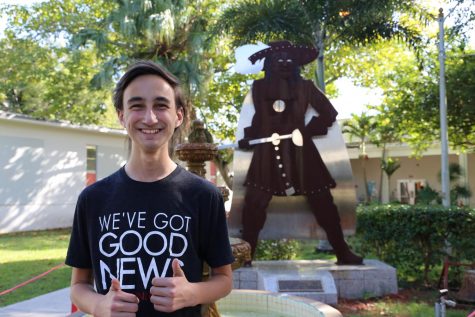 Alexander Tabares, Staff Writer
Alexander Tabares is an incoming freshman in the International Baccalaureate (IB) program at Coral Gables Senior High School. Once he begins high school,...