Athletes of the Week: April Edition
As the end of the school year is fast approaching, many Cavalier student-athletes are doing their best to finish strong. The students below have managed to distinguish themselves from the rest in an action-packed spring  season due to their accomplishments throughout the month of April, and they are being honored for it in being named Coral Gables Senior High Athletes of the Week.
---
Week of Apr. 7-14: Ernest Denis and Colin Wilson
Ernest Denis, a senior on the baseball team, held Miami Beach to three unearned runs while pitching for the Cavs. As a result of his dominant pitching performance, Denis led the Cavs to a 7-3 victory over their district rival.
Ernest Denis first started playing baseball when he was five years old. His father has a love for the game that made him fall in love with the sport. Denis hopes to one day make his father proud on TV if he were to be lucky enough to play professional baseball. Receiving Athlete of the Week gave him joy knowing that his hard work is paying off. While he plays a tremendous amount of work into perfecting his craft, Denis's favorite part about being on the team is the relationship he has built with the boys and having the ability to consider them family.
"My favorite memories with my teammates get made every day, I think. It is always fun to be with them. Every day is something new," senior Ernest Denis said.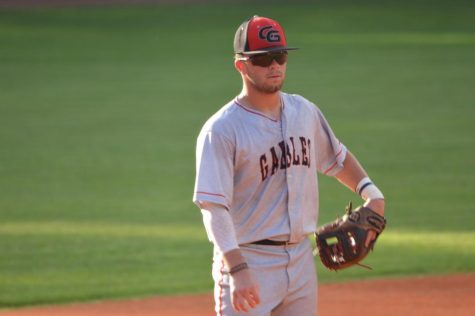 Outside of school, Denis enjoys fishing with his brother and father whenever they get the chance. He also has a deep passion for weightlifting and powerlifting. Now that graduation is arriving, Denis has chosen to go to ASA College for Networking Engineering. One of the reasons he will be attending college is for baseball, considering it is what he wants to do for the rest of his life.
Sharing the Athlete of the Week honors along with Denis throughout the first week of April is Colin Wilson, a junior on the track and field team, who won the two mile run and came in second place in the one mile at the Youth Fair Invitational. As he received Athlete of the Week Honors numerous times throughout the month of April, he will be discussed in greater detail further below.
Week of Apr. 14- 21: Sydney Pell
Sydney Pell, a junior on the Lady Cavalier Softball team, struck out eight of nine batters she faced which led her squad over district rival Miami High with a victory by a score of 15-0.
Pell first began to play softball at the age of eight because she wanted to attempt a new sport. Prior to that, she would actively do swimming, but fell in love with softball when she tried it.
"My favorite part of being on the team is definitely being around the team. I love the teamwork we have and all the bonds we have created with each other," junior Sydney Pell said.
During the preseason in the fall, they worked out three to five days a week at a CrossFit gym. Once the season starts, practices are after school Monday through Friday. For Pell, being on the field has always been fun and they have had nothing but positive experiences with each other. In addition to softball, Pell plays volleyball with her family and still practices swimming on her own time. However, she does not competitively swim or play for a team anymore.
Throughout high school, finding a nice balance between sports and academics has served to be a challenge. Pell spends many long nights staying up doing homework but attempts to prioritize everything. She tries to ensure that she will stay ahead in school work and not allow for it to pile on too much. Softball and school take up the majority of her time but she tries to spend time with family and friends regardless. In the future, Pell would love to attend MIT and would major in either Biology or Neuroscience. As far as her future with softball, she hopes to get recruited for college. However, if recruitment does not occur, she will still try and play softball in whatever way she can.
Week of Apr. 21- 28: Violeta Alonso and Colin Wilson
Junior track runners Violeta Alonso and Colin Wilson both were the two-mile District Champions.
Alonso first started Track and Field in her freshman year when her friend asked to join alongside her. She is thankful to be one of the Athletes of the Week and to be recognized for her athletic performances. Alonso's goals for the season were to go under six minutes in the mile and under thirteen in the two miles. The Track and Field team practices every day after school and do different workouts. At times, they even run outside of the school. She believes running helps her with school work because, although it takes time, it serves as an outlet for her stress and helps her concentrate.
One of Alonso's favorite things about being on the team is the support she gets from her teammates, the coaches and cheering for one another at meets.
"My favorite memory with my teammates is crying because the season was over and them supporting me," junior Violeta Alonso said.
Alonso will be attending college in Spain and believes it will most likely be at the University of Salamanca. Currently, she is unsure as to what she wants to major as of now. So far, she does not know if she will continue Track and Field in college. However, Alonso will continue running next year, and depending on her performance and opportunities, she will make her decision accordingly.
Week of Apr. 28- May 5: Colin Wilson
Colin Wilson, in the final week of April going into early May, was the one-mile Regional Champion and was named a contender for the State Finals at the University of North Florida.
He first began to run track and field in the seventh grade, simply because his cross country coach had asked him to. His goals for the season were to break 4:20 mark in the mile and the 9:20 mark in the two mile. Wilson's favorite part about being on the team is having teammates to "suffer" with, rather than working out alone.
"It was very nice getting Athlete of the Week because I've been working hard at practice every day. It was also nice to get AOTW with a teammate of mine. My goals stayed constant through the season as I wanted to make it to states and do well there," junior Colin Wilson said.
As previously mentioned, Wilson is a multi-sport athlete. In addition to continuing with cross country and track, Wilson actively bikes and swims to keep himself in shape for sports seasons.
---
These student-athletes at Gables are always giving it their all, and the school is proud to recognize them for all their hard work and unmatched dedication to improving themselves. So far, they have managed to accumulate astonishing accomplishments within their respective sports. Throughout the season, the students have demonstrated an excellent balance between sports and academics and, in every way, they embody the definition of a student-athlete.