The NFL Draft Introduces the Newest Faces of the Miami Dolphins
Hang on for a minute...we're trying to find some more stories you might like.
The 2019 NFL draft ushered in a new wave of potential Pro-Bowlers and Hall of Famers, as well as players that may not live up to the hype. It is the job of the scouts for all 32 teams to determine which players will serve the franchise for years to come, and which players they should pass on when given the opportunity to draft.
The Miami Dolphins are entering a season in which they are expected to lose most of their games. They just traded their starting quarterback for a mid-round draft pick and have an aging defense that was already among the worst in the league. The Dolphins have also not been known to make the best decisions on draft day, especially in the first few rounds. Recent picks Laremy Tunsil, Kenyan Drake and Xavien Howard have made near instant impact, giving some hope that the Dolphins knew what they were doing come draft day.
"The Dolphins front office has not made the best decisions recently, but I think this draft has enough good prospects that it will be hard to make a terrible pick," senior Max Rego said.
The Dolphins had six selections in the 2019 draft, one of which was expected to be used on a quarterback. This ended up not being the case as they traded their 2020 second round pick for Arizona Cardinals quarterback Josh Rosen. Rosen was a top 10 pick in the 2018 draft, but a coaching change in Arizona led them to take Kyler Murray with the first overall pick and shop Rosen to potential suitors. The Dolphins now have a quarterback with legitimate potential, that with the right offensive line and weapons, could become the centerpiece of the franchise for many years.
When it came down to actually drafting, the Dolphins used their first round pick on Clemson defensive lineman Christian Wilkins. Many questioned passing on Ohio State quarterback Dwayne Haskins, but the Rosen deal quelled these fears. Wilkins is an imposing figure on the field, he is one of the most athletic lineman in the class and relies on that speed and power to push past offensive linemen. New Dolphins Head Coach Brian Flores is a former defensive coordinator, so he made sure to get the right fit for his system as soon as possible.
"I really was not expecting the Dolphins to draft Wilkins since there was not that much talk connecting them, but I am glad that he brings a winning attitude at such a young age," junior August Field said.
With their next pick, this one coming in the third round, the Dolphins addressed one of their biggest needs: the offensive line. Wisconsin product Michael Deiter is widely seen as a steal for being drafted so late, given that he is one of the most technically sound guards in the draft class. There are concerns about his athleticism, but he should get acclimated fairly soon and become an integral part of the line tasked with protecting the newly acquired Rosen for years to come. The Dolphins also used a sixth round pick on tackle Isaiah Prince, who profiles to be a legitimate contender for a starting spot on the offensive line in the next couple of years, after learning from veterans for the time being.
Miami has a hole at the linebacker position, that is no secret. Veteran Kiko Alonso is losing some of his athleticism, and Raekwon McMillan cannot be expected to carry the defense at such a young age. The coaching staff looked to address this problem by drafting Andrew Van Ginkel in the fifth round. Profiled as a high motor, volume tackler, Van Ginkel will need to work on his aggression and pass rushing skills to become a mainstay in the Dolphins defense, but figures to be a decent producer even in his rookie year.
The Dolphins' last two picks were used on running backs to take the load off starter Kenyan Drake. Chandler Cox and Myles Gaskin are expected to compete for the backup spot, with Gaskin being given the edge by many experts due to his college production. Cox is the strongest of the three Dolphins running backs, so he may get snaps purely in a full back and blocking role. Gaskin is an explosive runner that brings concerns about his size and usage as a four-year starter at Washington, but his consistency should give him a decent role in the offense.
While it may be a few years before the full potentials of the 2019 Miami Dolphins draft picks are realized, it is reasonable to argue that the Fins are on the cusp of an exciting future behind their talented pool of picks and a strong recently acquired quarterback.

About the Writer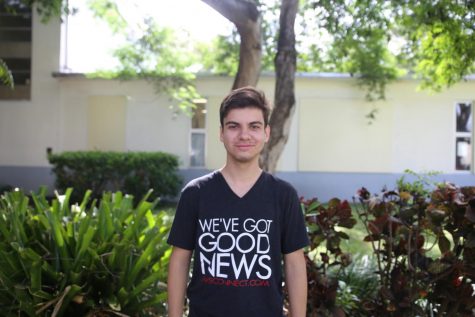 Patrick Ales, Staff Writer
Patrick Ales is a senior in the International Baccalaureate (IB) program at Coral Gables Senior High School. This is his first year in CavsConnect and...