Kid Superman Swims Past Michael Phelps's Record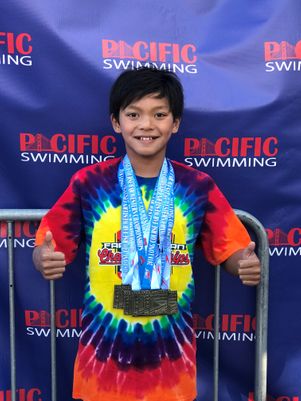 On July 31, 10-year-old swimming phenom, Clark Kent Apuada, beat Michael Phelps's 23-year-old record in the 100-meter butterfly, leaving fans stunned at his ability and agility. The Long Course Far West Championships in Moraga, California, held the swim meet where many contenders gathered to compete. Apuada is a swimmer for the Monterey County Aquatic Team. The most suprising part of the story is that he has only been swimming competitively for four years. However, his natural talent and determination have blown the spectators and competition away.
"I find it so incredibly amazing to be able to break such a long-standing record at such a young age," junior Camila Carrena said.
The day of the meet, Apuada took home seven wins in several different swimming categories. But the timed heat that has everyone praising Apuada for is the 100-meter butterfly, which he completed in a shocking 1:09:38, a second faster than the time Michael Phelps had accomplished in 1995. This record-breaking time has been seen and shared all over social media, including the King of the Pool himself. Phelps shared a congratulatory tweet to Apuada, or "Superman" as he was nicknamed by the public, thanks to his original name of Clark Kent. Phelps, the 23-time Olympic Gold medalist, wrote, "Big congrats to #clarkkent for smashing that meet record!!! Keep it up dude!! #dreambig."
"
Being a Michael Phelps record breaker is amazing because Michael Phelps is one of the largest swimming icons in the world.
— Clark Kent Apuada
"I cannot imagine how satisfactory and mind-blowing it was to beat Michael Phelps record. That is the ultimate swimmer's dream, to be better than the ones you admire the most," sophomore Sara Rabell said.
Aside from mastering the skills necessary to dominate in the pool alone, Apuada partakes in other activities, mastering many other techniques and skills. Apuada takes piano lessons, practices martial arts, and is highly interested in STEM and computer classes at his school.
"This kid is unlike any other young man that I've ever coached, He's always stood out. He's kind of a savant of sorts," Apuada's coach Dia Riana said. Being versatile has allowed Apuada to better manage his time. Finding the perfect balance of scheduling is how he has been able to thrive in all of his activities and break records with ease.
There is no doubt he will surely reach his goals if he continues down the same path he is currently on. While it is not an easy thing to admit, it looks like some more of our beloved Phelps records may be for the taking by the young superhero as he continues to master his game.