Athletes of The Week: Daniel Krulig, Jack Lee, Sofia Quevedo & Kristina Fernandez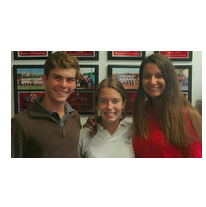 With multiple members of the tennis team reaching States, athletes Kristina Fernandez, Daniel Krulig, Jack Lee and Sofia Quevedo have all earned athlete of the week for their great playing at the tennis State Tournamnet. Kristina Fernandez and Sofia Quevedo won the Girls' Doubles State Championships Daniel Krulig and Jack Lee won the Boys' Doubles State Championship.
Kristina Fernandez:
Having played tennis for 11 years now, Junior Kristina Fernandez plans to continue for as long as she can. She discovered the sport when her mother urged her to try it out. After that, she started playing competitively as she discovered and furthered her passion for the sport. This was not Fernandez's first time at states though. Last year, along with Quevedo, the two were able to qualify for doubles at states as well. To learn more about Fernandez's goals click here.
Daniel Krulig:
Sophomore Daniel Krulig has played tennis for about 8 years now. Krulig took time off of public school and switched to virtual school in eighth grade to focus more on tennis. Currently in the top 25 tennis players of Florida, Krulig will for sure be one of the athletes to watch out for in the future. Having practices everyday and tournaments almost every weekend, Krulig's dedication to his support is very evident as he continues to practice for his ultimate goal. Since tennis is an individual sport, the athletes usually play singles. In Krulig's case, he usually plays and practices singles but when he gets the chance tries to play doubles. In the future, Krulig hopes to play for a Division 1 college or university.  To read more about Krulig and his goals and aspirations click here. 
"Being on a doubles team is obviously a lot more interactive and it displays on what being a part of a team is like. In singles you are all by yourself with no one on who to depend on or blame if you lose. Doubles can sometimes be more entertaining since it takes out the loneliness of singles tennis," sophomore Daniel Krulig said.
Jack Lee:
At the age of 5 sophomore Jack Lee started playing tennis. His mother was a high school tennis coach at the time and had urged him to try the sport out. Currently, Lee does not attend Gables since he does virtual school to better adapt to his tennis schedule. Thanks to the flexibility in his schedule, he is able to practice tennis four hours every day. In the future, Lee's main goal is to be able to go to a great school in New England. But as of now Lee is trying to focus on the national tournaments this summer.
"In my case being on a team pushes me to play better since I am bit lonely playing for myself. Playing singles is really just a mind game with yourself. Training is probably the hardest thing for me since there is no "real incentive". However, training is where you can push yourself harder than you think," sophomore Daniel Lee said.
Sofia Quevedo:
Junior Sofia Quevedo has been playing tennis for about 12 years now, starting at the age of four. When she was little, her dad put her in a training camp where she first discovered the sport and fell in love with it. Ever since then, Quevedo has played numerous tournaments and has made sure to put in the handwork and dedication that has brought her this far. This year, Quevedo had a change in matches. In her previous years, Quevedo had played girls singles, but this year she ended up playing girls doubles. Read more about Quevedo here.
Now that these athletes have won states they will continue to practice and work hard as they train for nationals this summer. Make sure to be on the look out for these athletes as they are sure to be going far.