J. Cole Opens "The Off-Season" Tour In Miami
J. Cole took his talents to the newly renamed FTX Arena (previously American Airlines Arena) on Sep.24 to open his upcoming "The Off-Season Tour." J. Cole headlines the tour with special appearances from hip-hop/rap artists 21 Savage and Morray, and popular internet comedian Druski.
Showtime was set in Downtown Miami for 8:00 p.m. Morray was the first act, a young and upcoming rapper also from J. Cole's hometown, Fayetteville, North Carolina. Morray came on stage and played four to six songs including his most popular song, "Quicksand." Morray, most known for his guest verse on J.Cole's song "m y . l i f e" featuring 21 Savage, was a great opening set for the show to come.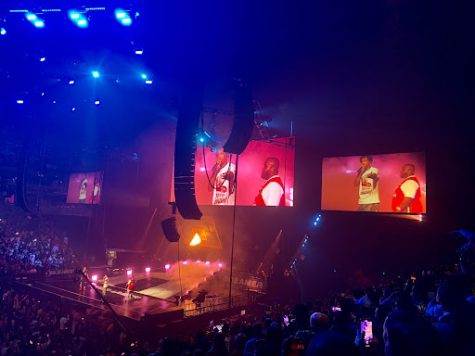 An intermission broke out and the crowd desperately waited for the next act, 21 Savage. There were sound issues for the beginning of 21 Savage's set, the vocals didn't seem right until he hit his third or fourth song. Although it was off to a rough start, the crowd was still excited all throughout the performance. The only artist left to perform was J. Cole and his sets were not ready. Either way, the show must go on and this came in the form of standup comedy.
Internet comedian Druski had a 10 to 15 minute standup routine surrounding diversity and music. Druski had the crowd in tears and was a surprisingly great segway into J. Cole's performance.
J. Cole proceeded to rock the entire crowd for the next hour and a half. J. Cole dug deep in his discography by playing all types of songs. J. Cole made sure to play hits like "No Role Modelz," throwbacks like "Work Out" and even his underground music like "Back To The Topic." There was a song for everyone and all types of emotions. Whether it was heartbreak songs where the crowd sang their hearts out, or bangers where you could feel the arena erupt, the crowd was loving anything and everything J. Cole performed.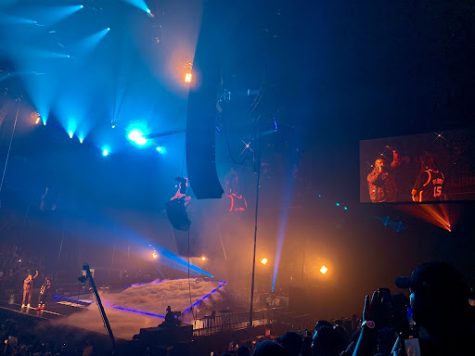 "Without a doubt a great show from the goat. I look forward to collaborations with Drake and Kendrick soon," senior Maysabell Albuja said.
It was almost closing time and the arena could feel it. J. Cole made sure to end off his first show of the tour on a good note. J. Cole brought out Drake, one of the biggest rap sensations in the world and the crowd went nuts. That was the loudest the crowd had been all night, you could feel the ground shake from all the fans jumping. This was one of the more memorable moments of an already special night.
"When Drake came out I was going crazy. I remember my ears ringing at how loud the crowd was," senior Justin Pujol said.
After all, the time had finally arrived. It was closing time and J. Cole played the hit single "Middle Child." The crowd shared one last song together before it was time to go home. J. Cole wished the crowd a good night and he went on his way. To J. Cole it was just another show, for the crowd it was an unforgettable experience.