Step "Inside" Bo Burnham's New Film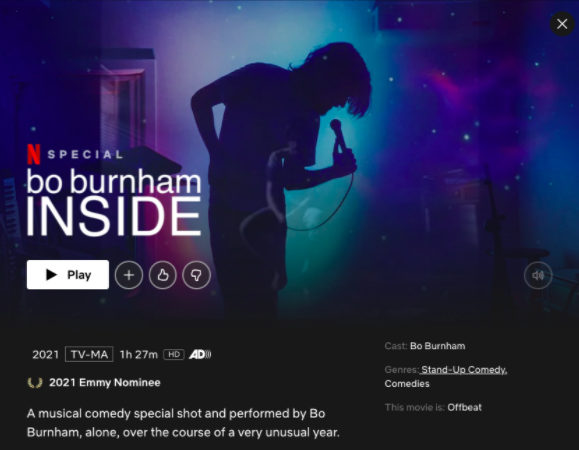 Director: Bo Burnham
Release date: May 30, 2021
MPAA Rating: TV-MA (Trigger Warning: suicide mentions)
Starring: Bo Burnham
Our Rating: B
After a five year hiatus to focus on his mental health and anxiety, Bo Burnham finally made a comeback. Filmed in the comfort of Burnham's very own guest house, "Inside" shows the struggles of living in times of COVID-19 in a comedic musical, making this movie relatable and enjoyable for viewers of most ages. Burnham has a special eccentricity that makes his work a unique pleasure to enjoy.
The movie starts off rather bizarre and unsettling, but quickly jumps into Burnham's usual style. In "Comedy" and "How the World Works", two of his previous films, Burnham uses his platform to talk about more serious topics like society's negligence towards minority groups without losing his comedic charm along the way. In "How the World Works," Burnham talks about minorities' voices getting crushed and ignored by the privileged. Although it can take a dark turn at times, "Inside" still maintains a light-hearted feel.
"I have not finished the movie yet, but so far it's funny and the songs are super catchy," sophomore Sofia Felan said.
Despite its elements of relatability towards viewers, this movie is also a reflection of Burnham's personal struggles and process of realizing his own mistakes, as portrayed in the song "Problematic". He even pokes fun at himself as he compares his own life to a video game where each day he performs the same actions of crying, playing piano and trying to find random things to entertain him as he is stuck inside. In "All Eyes on Me," Burnham explains why he quit stand-up comedy and his plans to go back before his life was severely altered by a global pandemic.This one-man show has a down to earth vibe that allows Burnham to connect with his viewers and fans better.
"I kind of expected something different but the style was pretty cool I guess, just surprising," sophomore Sebastian D'Alessio said.
"Inside" was a movie that definitely deserved its 2021 Emmy Nomination. The results were impressive especially considering this was a one-man show all the way through. Burnham uses his creativity to talk about important topics in a comedic manner all the while being sensitive as well. Although "Inside" may not be for everybody, for those who enjoy comedy and music, it is a must watch.