Vegan-Friendly Restaurants in Miami
In the past few years plant based diets, such as veganism, have immensely grown in popularity. This is now being seen more commonly amongst younger people as well. It can sometimes be complicated to know what exactly is on your plate when getting something to eat or going to restaurants while trying to follow your vegan diet. This is why CavsConnect is here to suggest 3 vegan-friendly restaurants in Miami.
"I think a lot of teenagers are starting to become vegan recently! A lot of social media apps allow vegans to show what their diet consists of and how food can be healthy and tasty, something most non-vegans usually don't realize. Teenagers are also more informed than ever about the world around them. Switching to a vegan diet can help the environment," freshman Leeanna Anderson said.
---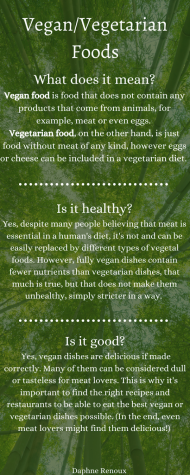 1. Sweetgreen
The chain Sweetgreen was founded in 2007 and was successful enough to expand throughout multiple large cities in the United States. During Dec. 2020, they opened up a restaurant located in Coral Gables. Although sweetgreen does not have a fully vegan menu, many of their dishes, wraps and salads are vegan. Moreover, sweet green offers a "Make your own" option in which the customer can put together ingredients of their choice to create their own salad bowl. The customer will choose bases and ingredients, and premiums and dressings. The menu also includes a legend labeling all vegan dishes and ingredients with a "v" making it easier for vegans to find a tasty and allowable pick. The majority of their dishes are plant-based, but even the ones containing animal protein and other non-vegan ingredients make them a healthy pick for anyone.
2. The Planta Queen
This restaurant was founded in 2016 and is based in Toronto. From there, they opened multiple restaurants around the Candian city itself and two in Miami. Their menu is fully vegan and the restaurant aims to promote environmental sustainability. The menu varies from sushis to noodles, all fully plant-based of course. For example, the ahi-tuna rolls contain watermelon instead of actual raw tuna which serve as a surprisingly good replacement. The Planta restaurant on CocoWalk has a menu with mainly asian inspiration and contains dishes like the "spicy seoul noodles", "truffle fried rice", "poke bowl" or "steamed edamame". Overall, this restaurant aims to give people the opportunity to eat asian-inspired vegan cuisine in a sustainable environment. The place itself is located in Coconut Grove and opened a few months ago. The spaces are big and beautifully decorated. The environment is overall very welcoming, along with the staff, and helps customers feel at ease in a beautiful place.
"The dining atmosphere was great. The servers were really nice and I loved having so many vegan options to eat at a restaurant. Overall super cool," freshman Steffi Sarmiento-Mena said
3. Charly's Vegan Tacos
For mexican food lovers with a preference for vegan cuisine, this is the perfect place for you. Charlie's Vegan Tacos is located in Wynwood and serves mexican cuisine… vegan. This may seem weird at first, but the place is worth trying out. The spot itself is warm and welcoming: the facade is decorated Wynwood style with street art and the inside was created to imitate a beach restaurant. This restaurant managed to create mexican flavors without incorporating any meat, which is almost unheard of. Overall, this little place is worth going to, however doubtful one may be about vegan mexican cuisine.
---
Trying out a new diet is a great idea for anyone, but it does not mean that going out to eat is not an option anymore. As much as homemade recipes are super fun and guarantee a dish that follows one's diet, some restaurants make it easy for their customers to feel comfortable eating knowing they are still following their diet.