Evermore: Love it or Tolerate it?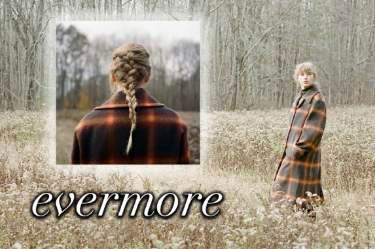 Album: Evermore
Artist: Taylor Swift
Genre: Indie pop
Release Date: December 11, 2020
Our Rating: A
With the debut of her ninth studio album "Evermore", supporters of Taylor Swift can say that the singer has once again outdone herself. Less than five months after "Folklore", her most recent piece, "Evermore" was released on Dec. 11 with little notice to fans. The 15 song production continues the 31 year old artist's indie era with homey music to put listeners in the perfect mood this winter.
This album coming just a few months after the release of "Folklore" is a continuation of Swift's eighth album. Several of the producers of "Folklore" were also present in the making of "Evermore", including Aaron Dressner, Jack Antonoff and even Swift's boyfriend Joe Alwyn using the pen name William Bowery. This is a stark contrast from her previous works where each album had a very different aesthetic from the one before it and producers were rarely featured in more than one album. Here is a deep-dive into some of the most compelling songs on the album.
"(Evermore) is similar to Folklore but definitely has some country and pop. I think it's one of her best albums and has some of her best collaborations, but it's hard to compare because all her albums are different," sophomore Francesca Rico said.
"Marjorie": A-
"Marjorie" is a heart-wrenching ode to Swift's late grandmother, in which she laments the loss but also recalls the heartwarming memories and advice her grandmother gave her that has stayed with her to this day. To add to the touching quality of this song, the lyric video is composed of various heartfelt home videos, with many showing Swift as a young child and her grandmother.
Her grandmother's singing, which was discovered on an old vinyl, can also be heard in the background of the song, especially in the closing. Just as "Evermore" is related to "Folklore", Marjorie is related to "Epiphany", a song on the "Folklore" album about her grandfather from her father's side.
"Tolerate It", "Happiness", "Long Story Short": A
These songs in succession paint a picture of growth within a romantic relationship that just does not work out in the end for either partner. In "Tolerate It", Swift describes an unrequited love; the object of her affection hardly notices her. She finally begins to recognize her worth, however, acknowledging that although her love "should be celebrated," her significant other merely tolerates it.
With "Happiness", Swift reflects on a current love story that is more bittersweet. Although she admits the relationship has brought both persons happiness, hence the title, they will continue to have joy without one another. The mutual, more peaceful separation offers a transition to her Long Story Short.
In "Long Story Short", she concludes this tale of rocky romances with more of a look to the future. With a brief reflection on her past with "the wrong guy," she overcomes her heartbreak by focusing on an undiscusses lover, whom she only refers to as "you." As she makes her final remarks, Swift mentions looking better in the "rear view," perhaps referencing how in hindsight people tend to know better.
The subtle yet intricate flow between emotions provokes listeners to reflect on their perception of love. The hidden connections between songs goes to prove once again that Swift not only has vocal talent, but is also a lyrical genius. These added layers also allow one interpret these songs in their own unique way, making the experience of hearing the album a more personal one.
"No Body No Crime": A+
"No Body No Crime" is one of the most interesting tracks because its lyrics follow a mysterious story of affairs and possible murders. Este, one of the main characters, has appeared to go missing. Swift, as the narrator, suspects the husband of foul play, as Este had shared suspicions of him having been unfaithful. After the husband's mistress moves in, this country song takes an ominous turn as Swift hints at having murdered the adulterer after claiming she would not let up "until the day he died."
Guilt, mystery, revenge and the ultimate coverup make this tale and intriguing one for listeners. This is not the first time Swift gives one of her songs a story-like format; in "Folklore", "Betty", "Cardigan" and "August" went together to create a tale about a high school love triangle. However, the story created in "No Body No Crime" is unique in its dark and suspenseful energy.
"I love Evermore. Willow and Tis the Damn Season is so good," junior Benjamin Pla said.
Despites this album's striking resemblance to her previous one, it did exceptionally well on the charts. "Evermore" marks Swift's eighth consecutive number one album on the Billboard 200, and it earned the title as second-biggest Spotify debut for an album by a female artist this year, only behind "Folklore".
Whimsical and folksy, this album seems to be a return to Swift's country roots, as opposed to a simple continuation of her pop star status. With her decades-long success in the music world being beautifully illustrated by this album, it can be said that Swift's standing as one of the most influential artists will continue evermore.[powr-twitter-feed id=6d8f1650_1610159039414]