The Good Place: Everything is Fine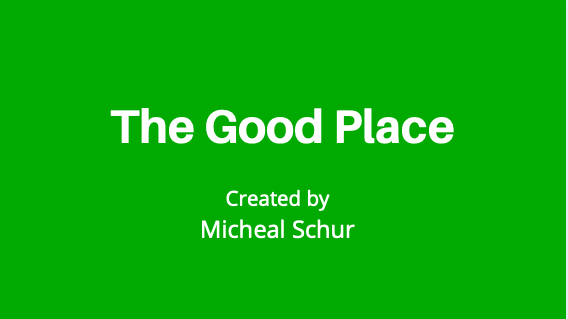 The Good Place: Everything is Fine
TV Show: The Good Place
Release Date: September 26, 2019
MPAA: TV-14
Starring: Kristen Bell (Eleanor Shellstrop) William Jackson Harper (Chidi Anagonye), Jameela Jamil (Tahani Al-Jamil), D'Arcy Carden (Janet), Manny Jacinto (Jason Mendoza), Ted Danson (Michael)
Our Rating: A
It has been a year of waiting for fans of The Good Place, but the wait is finally over. The fourth and final season of The Good Place has been released on Netflix. It consists of thirteen witty and hilarious packed episodes.
The season picks up right where it left off from its previous season. Eleanor, Michael, Janet, Tahani, Jason and Chidi have begun their experiment on whether or not humans can get better and earn their way into the good place. Once it is revealed one of their test subjects is Chidi's ex-girlfriend, he volunteers to be mind wiped and the season ends with Eleanor reintroducing him to the neighborhood. The new season picks off from there as Eleanor struggles to introduce her mind wiped boyfriend to the neighborhood.
"
The fourth season of 'The Good Place' was very good, I loved how it went back to its roots by bringing back the original neighborhood from season one. "
— sophomore Katherine Arencibia
The Good Place is generally known for three things, its humor, ridiculousness and ethics. Season four is definitely hilarious and ridiculous, however, it focuses less on ethics and more on the characters. The season highlights how the characters have evolved from season one, and their journey once they reach the actual good place. Although it does focus on the characters, it still includes some level of ethics.
"Whenever I am in need of a good laugh, I can always count on 'The Good Place,'" sophomore Sophie Gonzalez said.
Similar to its first season, season four is meant to be a bit of a throwback for the characters. Rather than being the humans experimented on, this time around they get the chance to run the experiment themselves. Of course, there were many hilarious hiccups along the way, but in the end, the characters came through for the human race. Instead of a person having a total point score at the end of their life to determine if a person is good or bad, now there is a test they must take. The test consists of morally questionable scenarios from a person's previous life, and if the person's morality improves as the test is taken, they get to go to the good place. However, if they continuously fail and never improve they will be sent to the bad place.
Overall, season four of "The Good Place" was very bittersweet. It was very memorable and nostalgic, however, it was the show's last season ever. Fans will never get to see any new sarcastic comments from Eleanor, Chidi's iconic stomach aches, Jason's unawareness, or even Tahani's constant name-dropping. Despite that, the show still had a perfect ending, so go watch the fourth and final season of "The Good Place" on Netflix.