Lady Gaga Rocks the Super Bowl Halftime Show
Our rating: A
On Feb. 5, Lady Gaga gave a remarkable performance at the 2017 Super Bowl's halftime show.  The talented, one-of-a-kind singer appeared wearing a shiny, silver sci-fi bodysuit, matching high-heeled boots and a glittery mask with eye paint.  She began singing a few lines from "God Bless America" and "This Land Is Your Land" then finished by reciting the Pledge of Allegiance. Afterwards, Gaga was lowered through the air on suspension cables as she burst into song with her most famous hits.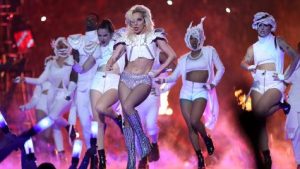 Although Lady Gaga outdid herself at this year's concert, her performance did not compare to the 2016 show which featured Coldplay, Bruno Mars, and Beyoncé. That concert began with Coldplay taking the stage and performing their most popular songs. Shortly after, lead singer Chris Martin introduced Bruno Mars, who performed "Uptown Funk". Halfway through the performance Beyonce made an appearance, lighting up the arena with her powerful voice, making her the highlight of the show.
"Lady Gaga did a a really good job on Sunday but I don't think her performance was better than Beyonce's. I don't think anyone can top Beyoncé," sophomore Quetzal Pizarro said
By contrast, Gaga stated her performance would celebrate "inclusion" and the "spirit of equality" during a time of separation in our country. Many Americans were prompted to consider the possibility of hidden political messages and social commentary during the performance.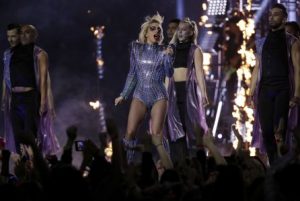 "The show was pretty cool. I think she took a risk with the whole politics thing but I'm glad she did because everyone still loved the show," senior Kelvin Valdes said
Gaga's performance and choice of songs were very timely especially because of the current social and political turmoil. The Super Bowl's producers took a big gamble in offering her this opportunity-and it paid off.  Her memorable performance will likely be considered safe by some of her fans, and controversial by her detractors. Nonetheless it was a memorable performance by an exceptional artist.