FIFA 15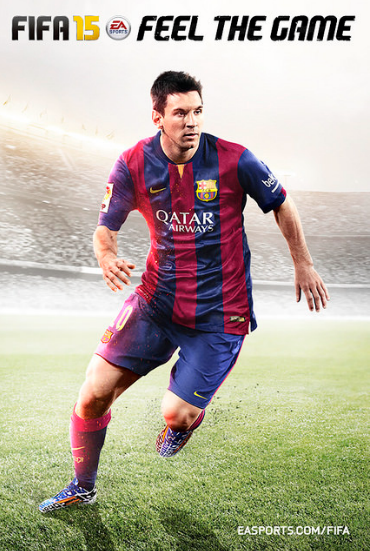 Game Title: FIFA 15
Genre: Sports, Football (soccer) simulation
ESRB Rating: E
Developer: EA Sports, EA Sports Canada
Platforms: PlayStation 4, Xbox One, PlayStation 3, Xbox 360, Wii and Wii U, PlayStation Vita, Nintendo 3DS and PC. Ultimate team available on Apple, Android and Windows phones.
Release Date: Sept. 23, 2014
The FIFA World Cup, an annual worldwide phenomenon, graced the globe's presence in the summer of 2014. A few months after the final match, the newest entry of the corresponding video game franchise was released, FIFA 15. As long time fans of the FIFA franchise might know, the game does not change much. The only consistent alterations are player ranking upgrades and downgrades, and graphical improvements.
FIFA 15 offers many different modes that test your skills both online and offline.
Kick-Off: Allows you to play as many of your favorite club or international teams.
Skill Games: Gives you time to test your abilities by participating in multiple challenges.
Career Mode: Lets you create your own player so you can advance from a beginner to the game's best.
Ultimate Team: The most popular mode in the FIFA franchise where you can choose the best players in the world and add them onto your ultimate team.
This year's version does offer one brand new feature, concept squads. These are a subsection in the ultimate team mode that lets you build your dream squad to see how all of the players work with each other.
"My favorite mode in FIFA 15 is Ultimate Team. I prefer this game mode because it lets you get all the players, that would normally never be on the same team together, to create the best team possible," freshman Roberto Nieves said.
Other than the annual change of the game's soundtrack and a few added tools, the game has not been altered drastically. This cycle has been with the game since the beginning of the franchise in 1993, and most people would actually like to see some change. Despite somewhat repetitive gameplay, the game does look more detailed than last year's FIFA 14.
Video game lovers and soccer enthusiasts alike will enjoy the thrill of playing their own virtual version of a football (soccer) game. With a revived soundtrack and graphics, this cycle's FIFA game should be a promising addition to the long-running franchise.