The International Baccalaureate (IB) program is acclaimed for its very rigorous curriculum, which aims to foster critical thinking and prepare students for the challenges they will face when taking on higher education. As juniors embark on this transformational journey, they must adapt and prepare for the workload and future exams. The teachers at Coral Gables Senior High help shape these bright-minded students into well-rounded young adults. Junior year is the most challenging year throughout the four-year program because it is when students transition from pre-IB honors classes to a schedule full of IB classes. Nonetheless, with the proper tips and guidance, these juniors will be fully set for success and prepared to graduate with an IB diploma.
1) Subject Groups & Workload
Before diving straight into the IB workload, it is crucial for junior students to have a full and comprehensive understanding of the program's curriculum. The IB program is made up of six subject groups: language and literature, language acquisition, individuals and societies, sciences, mathematics and the arts. Juniors should familiarize themselves with the guidelines and important assignments that they will be expected to complete for their chosen subjects. 
The amount of work in the IB program can be demanding, leaving students with numerous assignments, projects and exams to stay on top of. Effective time management is therefore essential. Juniors should get into the habit of keeping a calendar on hand with them at school at all times to ensure that they do not miss any due dates. This helps to allocate sufficient time for each assignment and balance academics with extracurricular activities, family time and personal time. 
"The trick for IB is to get as many assignments out of the way as fast as you can. The longer you hold things out for, the closer you get to cramming all your work. IB is as easy as not procrastinating and planning ahead," senior Mauricio Quesada said.
2) Communication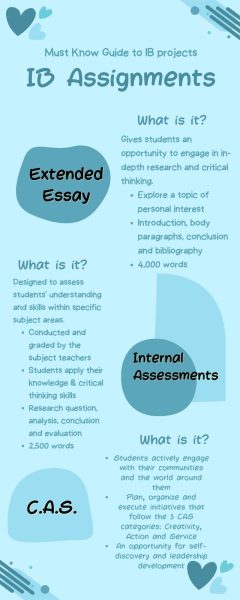 IB teachers are valuable resources of knowledge for students. Because of their experience as IB teachers, they have a deep understanding of the program and can give guidance on coursework, exam preparation and study habits. Some even allow students to come seek help with anything related to their class either before or after school hours. Having regular communication with teachers can lead to a better understanding of course content and expectations.
"Time management is really important in IB because you have to be able to set a balance between subjects, whether it be studying or doing homework. Prioritizing one class over another is a decision that has to be made plenty of times," senior Jordan Bueso said.
3) Study Habits, Resources and Mindfulness
Establishing strong study habits is fundamental for succeeding in this program. Juniors should find a distraction-free study environment, set specific goals for each study session and work in some active learning techniques to their routines such as summarizing, questioning and problem-solving. Consistent, focused study sessions are much more effective than last-minute cramming, which is a habit many students fall into when taking on projects like the Extended Essay and Internal Assessments.
"I usually like to keep an agenda with all my assignments to keep track of them. I highlight or cross out any that are completed to have a visual aid that helps me put my workload into perspective. I also like to study in places that inspire me, like my balcony, a park or a library; that way I don't lose interest and don't get tired. But overall, I'd say discipline is really important; you have to manage your time well so you can have a social life and also do good in school. There are times where you'll miss out on some things, but I think it's worth it in the end," senior Marla Aman said.
The IB program's intensity can sometimes lead students to experience stress and burnout. Juniors must prioritize their well-being by maintaining a healthy and mindful lifestyle. This includes forming a regular sleep schedule, eating nutritious meals throughout the day, engaging in physical activity and practicing stress-relieving techniques like meditation. A well-rested and balanced mind is better equipped for handling the academic rigor that this program entails and prevents burnout when reaching your senior year.
There are so many resources available to support students with their studies. Students should take full advantage of these resources which include the IB website, textbooks, study guides and past exam samples. In addition to that, the Richter Library at the University of Miami is available for all IB students to use, giving them access to all of their books and software. 
"I started going to libraries all around Miami immediately. At home I found myself often getting distracted, but I've noticed that in the library I have been way more productive and am able to get so much more work done," senior Santiago Giraldo said.
Junior year in the IB program is a demanding but ultimately fruitful experience. By understanding the curriculum, managing time effectively, seeking guidance from teachers, developing strong study habits, prioritizing mental health and utilizing resources, students can adapt and prepare for their coursework and future exams successfully. The IB program is not just about the end result and destination, but the journey through the program and personal and academic growth.
Which type of person are you when studying?
Sorry, there was an error loading this poll.