Problems Flood Into Gables: A Call for MDCPS' Help
Coral Gables Senior High has experienced a multitude of problems this year that have hindered students' and teachers' ability to be productive on campus. Exacerbated by a heavy hurricane season, Gables' concerns range from air conditioning malfunctioning to flooding.
Picture a typical day at Coral Gables Senior High. Your teacher shares a PowerPoint, and a blackout occurs in the blink of an eye. After a few confusing seconds, the lights and most of the energy sources turn back on, but unfortunately, the air conditioning remains a casualty. Without AC, students and teachers overheat in classrooms, and the humidity of Miami weather does not help.
The heat limits concentration and can cause health issues. Students are then forced to look for another solution: relocation to the auditorium. The breeze acts only as some relief; the auditorium itself lacks tables for all the seats as well as a projector screen, which makes resuming class work and lessons almost impossible for those in this situation.
These limitations interrupt lesson plans and delay work. Teachers are held back and must resume classes two days late, so lessons are crammed into the following class, putting more stress on both teachers and students.
These problems stem from the mass of machines that work full-time to keep a large school like Gables running. Repairs of these machines and building maintenance are funded by the district, rather than on a school level. In the case of these machines breaking down, the zone mechanic provides upkeep. 
However, in the case of an AC failure, schools present a maintenance work order to the AC department for the district to resolve the problem. Miami Dade County Public School System's maintenance department is responsible for upkeep issues that cannot be fixed at the school site. While repairs are handled at the district level, Gables' custodial staff handles the cleaning of spills or water intrusion. 
"Phase 2 of the GOB will address the air conditioning concerns as the school will receive new AC units throughout the older parts of the school," Principal Ullivari said.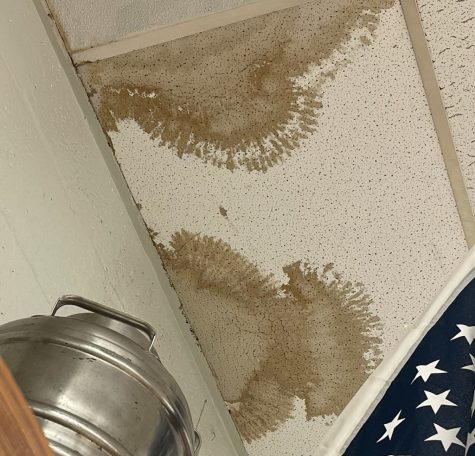 In response to these issues, the Phase 2 Construction Project came about, a plan issued for Gables to renovate bathrooms, complete select electrical upgrades, install new windows, redo exterior and interior paint and even connect Gables' older buildings to a more efficient AC system.
Mr. Bill Beardslee, president of the Parent Teacher Student Association, explained that throughout many years, Gables has been suffering from water intrusion through roof and window leaks. We have only experienced minimal damage as of now, but water intrusion can cause serious safety issues for students and staff.
Phase 2's original blueprint excluded water intrusion as a concern to address. Because of this, without Beardslee's and Friends of Gables High's advocacy for its consideration, MDCPS would have spent millions of dollars on a project that would later be undone effects of water intrusion.
After discussing with our school board district member, Mari Tere Rojas, and other members of the MDCPS construction and maintenance management team, the PTSA's plans were approved. As a result, the district expanded Phase 2 to include new roofs and stop water intrusion from other sources.
Hurricane Ian has left its mark on Gables too, with floods across the school, inside and outside classrooms.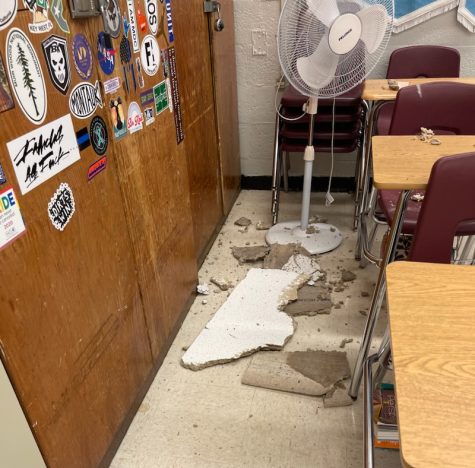 Picture walking into class to see mold on the ceiling tiles. A few minutes later, those same tiles crash onto the floor. The tile fiberglass, being infected with mold, poses a serious threat to those breathing the classroom's air. Without the mold getting removed, students and their teachers are inhaling toxins on an everyday basis, which could lead to serious health issues in the long run. 
"I walked in one day after a weekend of rain and the water had reached to underneath the Promethean board. My outlet was not working and I thought we had… an outage and it turned out that if you look at the outlet, it's black because it circuited out with the water," Student Activities Coordinator Ms. Suarez said.
In certain classrooms, flooding is a daily occurrence when it rains. Technology is put in danger in these cases, and devices often have to be relocated to salvage them from water damage. Even after reports of these incidents to the administration, nothing has since been done to resolve the frequent issue.
Apart from swamps inside classes due to heavy rainfall, areas like the outdoor seating area near the 4000 building and the halls behind the library have also been flooded.
"I think that especially, with the traffic in halls, its dangerous to have to deal with flooding every time the weather acts up, and certainly a concern for the school board and their student's safety," freshman Lucia Astorga said.
Overall, campus life has been hit with many weather-related curveballs. Both students' and teachers' schedules have been put on pause, while entire classes have had to relocate. Without action and responsibility on part of MDCPS, these problems will continue to damage our school.
Leave a Comment
Your donation will support the student journalists of Coral Gables Senior High School. Your contribution will help us cover our annual website hosting costs.
About the Contributor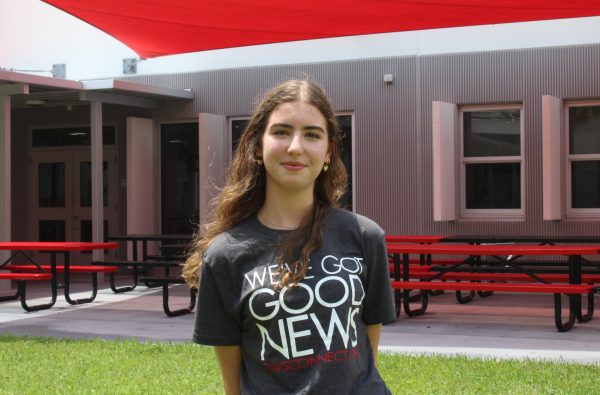 Marina Astorga, CavsConnect News Editor
As a sophomore in the International Baccalaureate program, Marina Astorga is excited to come back to CavsConnect for her second year in the publication....