Billie Eilish's Newfound Power
As a musical icon, Billie Eilish continues to amass millions of new fans, all while dealing with the ups and downs of being in the public eye. Known for her unique baggy clothing and black and green hair, Billie recently showed herself off in a whole new way. In a recently published British Vogue magazine, she wore a series of elegant corsets, dresses and an entirely new platinum blonde hairdo. Such a change in appearance sparked a lot of positive attention amongst fans, fashion critics and even fellow celebs. However, that is not to say this 19-year-old singer did not face body shaming. It was difficult for her to shed the baggy clothes for just a moment; her clothes are her barrier, yet they should not have to be.
Beginning her career only about five years ago, Eilish has come out as one of the most popular icons of the decade. With groundbreaking hits such as "Ocean Eyes" and "Bad Guy", she has become a true role model for her fans because she "speaks for them and with them" with the raw stories within her music.
In a recent interview, Eilish explained to British Vogue that she chose to hide her body to prevent the media from sexualizing her and judging her body. What's more, she did not want people focusing on her body rather than her talent and actions. She spoke up about a subject all too real for women, especially young girls.
She explained that from a very young age, she has felt pressured to look perfect in the public eye. Since she is curvier than others, the "sex appeal" is considered more active, which would immediately change her image. Her body would become a marketing tool, rather than something that would be respected. The pictures, published with this interview, sent a clear message to the world: Eilish is not immune to her own self-doubt and insecurities, however, she will do what she wants to do, regardless of other's opinions.
"
Billie's influence over younger people is cosmic, and she is using it to promote growth…things like this help teach people that the sexualization of people, especially girls, is very wrong,
— freshman Leeanna Anderson
Coupled with the powerful interview, the pictures where Eilish sports fitting pieces of clothing have marked the beginning of a new era for the singer. This along with her upcoming album "Happier than Ever" are the result of a long time to herself to think and face her insecurities head-on. Her time in quarantine allowed for her to stop the constant rat race of building up her music career.
This unexpected break was the ideal time for her to finally face some deep insecurities she had been ignoring thanks to the enormous amount of work she was constantly doing. Her body image is only one of the few challenges Eilish faced during this challenging period. This rather long-lasting break gave way to many new elements like her newfound confidence in her body, explaining how it really helped her focus on herself and finally relax after 5 years of nonstop working.
Nonetheless, Eilish's fear regarding her body is sadly a reality. As soon as the singer posted the Vogue pictures, she immediately received comments sexualizing her and degrading her as a woman.
It is not like this has not happened in the past—a good example of this would be when she was photographed wearing a crop top on a hot day during the quarantine. Unsurprisingly, this picture got a lot of attention and not in the best way. Many shamed her for supposedly gaining fat and developing "a mid-30's wine mom body" in the last 10 months. Had Eilish been wearing her usual baggy clothes, such a picture would have gotten little to no attention. Bringing into question the double standards of it all, we must wonder if she was a man, would this picture receive the same reaction? Most likely no. People would have not even noticed the picture and would have let it slide as another paparazzi photoshoot.
"Men have created an idealistic woman and believe they can do anything to women without their permission," freshman Auriane Lapierre said.
As a young woman experiencing the pressures of society, Eilish speaking up on this issue is a big step forward for women. Eilish is proof that everyone can change for the better and that it's important to always keep pushing forward to become the best version of yourself possible.
Leave a Comment
Your donation will support the student journalists of Coral Gables Senior High School. Your contribution will help us cover our annual website hosting costs.
About the Contributors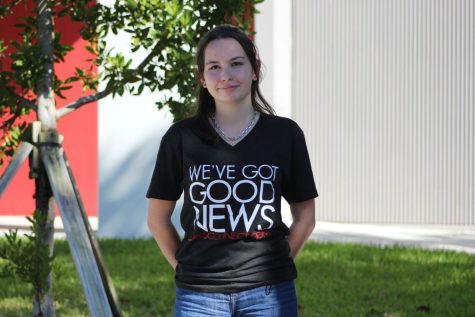 Daphne Renoux, CavsConnect Staff Writer
Daphne Renoux is a sophomore in the International Baccalaureate program. She lived in France for most of her childhood before moving to Miami. Daphne's...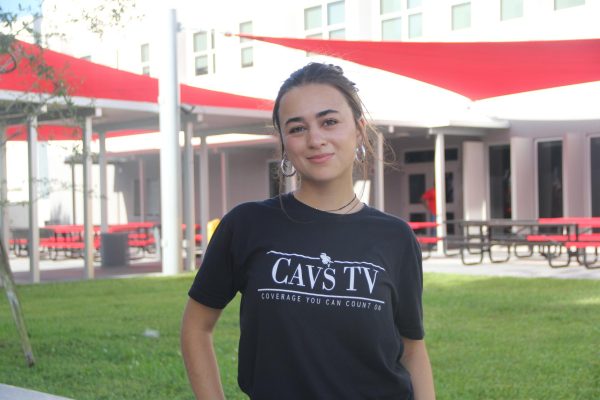 Noa Belehssen, CavsTV Copy Editor
Noa Belehssen is a senior in the International Baccalaureate program and this is her third year in CavsTV. She was in CavsConnect during her freshman year,...