CollegeBoard Makes Unjust Decisions for AP Testing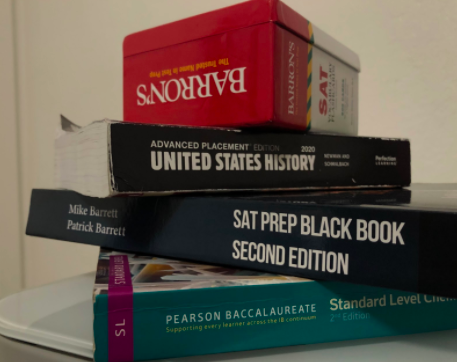 From start to finish, standardized testing is always the biggest focus in a student's academic career. These tests are consistently seen as a way to measure our learning, academic ability and capabilities of passing onto the next level of education. However, this has drastically changed over the course of the past year, and now a question is raised: how fair is it to test during a pandemic? The ethical concerns have to be taken into account due to the unfortunate circumstances of students but are evidently not being considered. Mandatory standardized tests should be either shortened, altered or cancelled in order to accommodate every student and teacher affected by COVID-19.
During spring of the 2019-2020 school year, CollegeBoard found it unjust to host full length Advanced Placement tests online, and rightly so. They even went a step further to not include all of the units in the test, because of the unprecedented circumstances in which students had to learn their AP curriculums. However, come the 2020-2021 school year, CollegeBoard has released an mandatory online full-length version of the test disregarding any struggles students may face at home. Some students may not have a safe home environment, some may have financial struggles and some may have unstable internet resulting in them having to potentially take a full length exam in person. CollegeBoard has yet not given the option for students to choose where they would like to take the test. Mandatory testing in person fails to recognize students and the health risks they or their immediate family may be facing. Whether online or in person, such a long test is absurd.
"I think there are many ways to measure learning and they should come up with ways to make it equal for everyone," junior Paulina Texier said.
We all know that learning online has not given students the opportunity to truly learn any of the material they need to know. The majority of students this year receive their education on an online platform from the comfort of their own home. Students are no longer in a focused or controlled setting, where the most interesting thing to do is pay attention to the white board in front of them. Not only does this leave a bigger space for distraction, but it encourages a lack of motivation. Sitting in front of a computer all day long does not motivate anyone to further their education or expand their knowledge and leads to immense "Zoom fatigue." Additionally, because we have been apart for so long, students are anxious to speak up in their own classes, making the connection between a teacher and a student practically non-existent. All of these factors create a recipe for disaster. Students are not retaining the same amount of information through a screen, yet this is still not considered a factor when making a decision that affects millions of high schoolers across the nation and the world.
If tests are cancelled, there are many other ways to calculate students' understanding. For example, they could administer end of the year projects like research papers, or even give credit for the class through class grades. They could even shorten the test again to prevent students' WiFi problems taking over. This discussion has been around for a long time, curated by those who agree it will never be fair for their futures to be in the hands of a couple of tests. Because of the pandemic, more students are now involved in this debate as well.
This applies for all course-based testing, so what about the CollegeBoard's SAT? Although many colleges have come out and said that submitting SAT scores will be optional in the application process, there are still many that have not. With students not being at school, and all of the financial hardships that have arisen due to COVID-19, the disparity in opportunities to get tutors or study books has grown. The SAT is an optional test, but it is beneficial to a student's college application if they score high. No university should make its admissions guidelines to include high SAT scores if students are faced with these unprecedented challenges, and should question whether this test will continue being used in the long run.
"I do not believe standardized testing is fair, because not everyone learns the same. It is hard to measure how much students are really learning through a screen," junior Eden Sobalvarro said.
Some may argue that if you choose to take a class that requires a test, you should expect to take a test regardless of the circumstances. However, most of these AP classes are crucial to the college application process. It has always been important to show rigorous and challenging courses in your academic career. Students should not have to miss out on having exceptional education because of a pandemic they can not control. CollegeBoard should adjust to the situation, not make everyone else have to.
All things considered, CollegeBoard should make testing decisions up to each individual, not by regional entities. The most effective analysis of a students skills is not by a one-time testing corporation, but by the teachers themselves. That way, they focus on learning for themselves and their own growth instead of learning to take a test.