The End for Jane the Virgin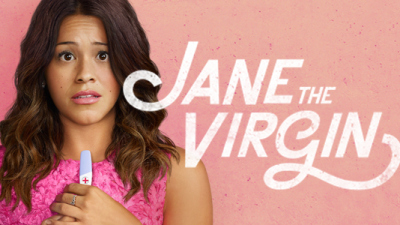 TV Show: Jane the Virgin (Season five)
Release Date: March 27, 2019
MPAA: PG
Director: Jennie Synder Urman
Starring: Gina Rodriguez (Jane Villanueva), Andrea Navedo (Xiomara Villanueva), Yael Grobglas (Petra Solano), Ivonne Coll (Alba Villanueva), Jaime Camil (Rogelio De La Vega), Justin Baldoni (Rafael Solano) and Brett Dier (Micahel Cordero jr.)
Rating: A+
After five seasons of Jane alternating between wildly emotional plots, keeping a connection with her Venezuelan background and writing her dream novel, "Jane the Virgin" has come to an end. Throughout the show, Jane has experienced various ups and downs and melodramatic events that kept viewers entertained and wanting more.
The plot revolves around Jane, a young and hardworking Hispanic woman, whose vow of chastity is questioned once she is mistakenly inseminated at her gynecologist appointment. Jane later has trouble searching for the biological father of her child, who is a married man that owns a hotel in Miami. She also struggles finding her own father, considering that she did not grow up with him in her life.
As the show continues, more complications begin to occur as her child develops into a toddler. She progresses with her writing profession and her family members each develop their own storylines.
As the show continued with its telenovela-style in its final season, there were still plenty of breath-taking scenes. The show's main focus had been the Villanueva females and how they constantly support each other.
"The ending of the show was very unexpected. It unexpectedly revealed the narrator. I would have liked a better reveal for the narrator because they have been building this character for five years," sophomore Valentina Bernal said.
Continuing with the cliff hanger that left fans in suspense at the end of season four, Jane was told that her dead ex-husband came back to life. Consequently, this brought conflict for her and her new family. Ultimately, they managed to stick together.
Although the first four seasons were a roller coaster of emotions and dramatic scenes, this final season turned out to be quite the closing for the series.
The majority of the audience was pleased with how the directors had ended the show, but some fans thought that this final season was unnecessary.
"I think they only made season five just to extend the show. It could have had a definitive ending on the fourth season. However, I did like how it ended just as I hoped it would," junior Kamila Hernandez said.
Overall, "Jane the Virgin" is a must-watch for those who enjoy drama and continuous twists. Director Jennie Synder Urman organized the show well, bringing increasing amounts of viewers as the show progressed through the years.
[powr-twitter-feed id=2f5659bb_1567561916250]