#NeverAgain: Memorial to Take the Place of Building 12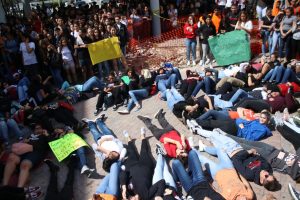 On Feb. 14, 2018, a mass shooting at Marjory Stoneman Douglas High School in Parkland, Florida claimed the lives of 17 high school faculty and students and injured 14 more. The perpetrator, 19-year-old Nikolas Jacob Cruz, was taken into police custody shortly afterwards and confessed to 17 counts of premeditated murder. In wake of this tragedy, people from all parts of the nation looked for ways to support the victims and survivors, including spreading a pro-gun control message through school protests/walkouts and through social media movements, such as the #NeverAgain hashtag on Twitter. The Broward County Sheriff's department has also announced that building 12, which is where the shooting took place, will no longer hold classes when students return to school on Tuesday, Feb. 27. The Broward County School Board has asked the Florida state legislature for $28.5 million to tear down and rebuild a memorial in place of this building. This action is justified and should receive the full support of Florida legislators because it is unfair to expect students to return to that building after such a traumatic event.
In 2017, Parkland, Florida was named the safest city in the state by the National Council for Home Safety and Security. The shooting was an event no one could have predicted, which only makes it even more shocking and damaging to the young students who were involved. "I used to dance with Jaime Guttenberg, I was in a competition with her a couple years back and its just really hard knowing that she is gone along with all these kids I have had classes with for years. We grew up with them," survivor Emma Gonzalez said. Not only do the survivors of the shooting have to mourn for their friends, classmates and teachers, they also have to return to the school where this occurred.
"
I think building 12 should be torn down. Being in the shooting caused many students to have trauma and stress. By tearing down the building, it lessens the degree of trauma for the students of Marjory Stoneman Douglas High School."
— freshman Nina Montero
It is already hard enough for students to return back to school and be expected to walk the same halls as the ones they ran the day of the tragedy, to eat in the same cafeteria and see the same people. However, forcing students to take classes in the exact building where it occurred would only further advance the feelings of fear and insecurity, which many students already have. Tearing down building 12 is an act of kindness to the survivors, as well as a way to respect those who lost their lives there. A memorial would honor the victims of the shooting and ensure that they are not forgotten, while not inflicting additional emotional pain on survivors.
Tearing down the building and creating a memorial will cost taxpayers a lot of money, likely along the lines of the $28.5 million that the Broward County School Board requested from Florida state legislature to do so. This has caused some controversy over the requested grant, especially when combined with the fact that no memorial will bring back the lives that were taken. Others have complained that destroying the building will mean less classrooms to place students in, which could lead to possible overcrowding and reduction of staff.
However, regardless of cost, students and parents deserve a place that honors the death of those who died on Feb. 14, and students deserve to feel as comfortable at their school as they can under the circumstances. Since the shooting took place in building 12, that building in particular has the potential to trigger bad memories in the minds of survivors, and make them feel unsafe. After all they have been through, they are owed everyone's maximum effort to ensure their physical and mental health, especially at school.
It should also be taken into consideration that this memorial has the ability to make a statement about gun control while honoring the victims. The survivors of the Parkland shooting have been exceptionally outspoken, not only about the trauma of the event, but about what can be done to ensure it is never repeated. Many students have contributed to organizing rallies, appearing on talk shows and giving speeches about the benefits of gun control to our society. Several students even sat down with Florida senator Marco Rubio at a CNN town hall meeting to discuss his thoughts on preventing gun violence. Parkland students are demanding change, and it is possible the memorial may reflect this anti-violence rhetoric.
The energy Parkland students have been putting into actively causing change in our nation is contagious. In states all across the U.S., especially in Florida, students have staged walkouts and protests to fight for gun control. Many occurred on Feb. 21, one week after the shooting, and lasted 17 minutes in honor of the 17 victims of the shooting at Marjory Stoneman Douglas High School. The young people of America are proving that change is long overdue, and the memorial would only further support this movement. In the two months of 2018, there have been 18 school shootings leading to countless deaths. We cannot keep sacrificing the well-being of our children and our citizens to protect the right to own a gun, especially an assault rifle whose sole purpose is to kill as efficiently as possible. In America, students should not be afraid to go to school, and parents should not fear that one day their kids can possibly be killed at a place where they are meant to get an education.
"Gun control is absolutely necessary because of the recent tragic shootings all over the United States," freshman Sofia Rebull said.
As a nation, we need to take responsibility for improving ourselves and looking out for our fellow Americans. This can start with tearing down building 12 at Stoneman Douglas High School in order to honor the victims of the shooting and make the survivors as comfortable as they can be at that school. It can also include supporting Parkland students to guarantee that their stories will not be the stories of countless other children around the nation. If you are interested in petitioning for gun control, you can sign this petition, attend any of these protests in your area or contact your national representatives and tell them how you feel.